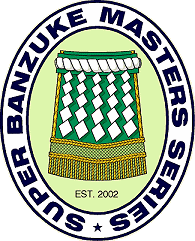 In 2002 Max Suchy aka Zenjimoto invented the meta-sumo-gaming concept of the Superbanzuke Masters Series. The idea was to identify the most successful players in a basho. The original Masters Series involved only ten veteran players, and while they happened to like that extra contest, the early Masters Series lacked popular appeal. As a consequence, the Masters Series was re-shaped into its current form in 2004.

Now,

all

players are eligible to compete, and

every player who finishes in the top-10

of any one of the 19 Super Banzuke games scores points towards winning the coveted Green Mawashi! The points breakdown is as follows:





Yusho: 15 pts. ... Jun-Yusho: 12 pts. ... 3rd: 10 pts. ... 4th: 8 pts. ... 5th: 6 pts.

6th: 5 pts. ... 7th: 4 pts. ... 8th: 3 pts. ... 9th: 2 pts. ... 10th: 1 point.


So, each game awards a total of

66 points

. If players are tied for a position, the points are equalized (i.e. if two players tie for second, they both receive 11 points, and not 12 points each, etc.) so the total number of points awarded per game is always 66. In games with divisions, only the Makuuchi competition will count towards the SBMS.

The player who wins the most points through their top-10 finishes, wins the

Green Mawashi

! The special prizes are determined as follows: Gino-sho is given to the player who scores best in both, daily and pre-basho games (who has the highest lower number of points in either of the two categories). The Kanto-sho goes to the player who scored top-10 finishes in the most games (regardless of points). The Shukun-sho finally goes to a player who has otherwise distinguished themselves. They must have won at least one of the individual game Yusho, and done so in either dominating fashion, or scored top-3 finishes in several games, or could be the Jun-Yusho winner of this competition. Sansho are awarded to players

other than

the Green Mawashi winner in order to recognize their achievements as well.

---
PREVIOUS SB MASTERS SERIES:

---