---
THE 2008 SB SUMO GAMES WORLD CHAMPIONSHIP: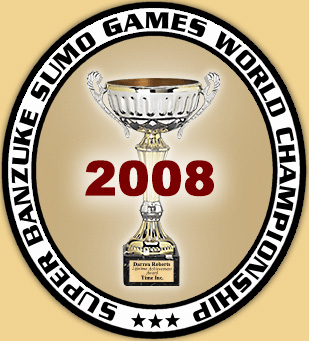 After the SUPER BANZUKE Masters Series emerged again from its ashes with an entirely new game concept, and a whole new set of rules, it was only a logical step to take the idea to the next level. In the SBMS, sumo games players earn points by finishing in the top-10 of SUPER BANZUKE-sanctioned games to compete for the Green Mawashi, which is awarded to the player who has the best overall performance at a basho, winning the "Super-Yusho", if you will. See the SBMS page for details on that.

The SUPER BANZUKE Sumo Games World Championship then takes all the points earned by each player in the SBMS all year long, and combines them to determine who was the best of the best for the entire year, and proclaiming that elite player the Sumo Games World Champion! :-) 2004 crowned the inaugural World Champion in Mariohana. 2005 was the ultimate showdown of the two Super Banzuke Yokozuna, the untouchable duo of Flohru and Doitsuyama, and Flohru beat Doitsuyama to the World Championship Title by a mere 2.58 points, which is a TINY margin after a whole year of sumo gaming. In 2006, it was down to Norizo or Susanoo. When 18 out of 19 Kyushu games were compiled for the World Championship, Susanoo was still leading by about 1.5 points. The final game to be scored was Salarycap Sumo. And here Norizo managed to overtake Susanoo, thereby becoming Superbanzuke World Champion. 2007 saw Tosahayate as the World Champion. He was the best player, edging out compatriots Susanoo and Norizo.
---
PREVIOUS SB SUMO GAMES WORLDCHAMPIONSHIPS: 2004 2005 2006 2007

---
---
The FINAL 2008 World Championship Standings:

(After Kyushu Basho 2008 - 6 Events)






The 2008 Sumo Games
World Champion is:

Norizo!

---




---

---

2008 World Shukun-sho Champion:

Norizo
(4 Total Yusho)




---

---

2008 World Gino-sho Champion:

Norizo
(87.96 Points)




---

---

2008 World Kanto-sho Champion:

Norizo
(33 Total Scores)


In 2008 Norizo won his second World Championship title after 2006. He easily dominated the gaming scene, and completed his sweep by winning in all sansho categories as well. During the year, he won four yusho, an accomplishment that was only matched by Ulsimitsuki. Moreover, Norizo had the best balance between daily games and pre-basho games. Finally, he tied the 2005 kanto-sho record of Doitsuyama by finishing among the top 10 for 33 times in six basho.

Norizo also is awarded the honors of best player in daily games throughout the year. The only category where the Superbanzuke Yokozuna was not victorious, was in pre-basho games where he finished just short of his wife, Choshu-yuki.

Congratulations to an impressive performance!


---
The FINAL 2008 Top-10 Sumo Gamers:



Leader



Norizo




Second Place



Zenjimoto




Third Place



Choshu-yuki




Fourth Place



Susanoo




Fifth Place



Tosahayate




Sixth Place



Golynohana




Seventh Place



Fatakiyama




Eigth Place



Bunijiman




Ninth Place



Ulsimitsuki




Tenth Place



Andoreasu






---
2008 Hall of World Champions:

2008 Daily Games World Champion



Norizo




2008 Pre-Basho Games World Champion



Choshu-yuki



---

Bench Sumo
World Champion



Chabonowaka




Chaingang
World Champion



Konizan




Tipp-Spiel
World Champion



Doitsuyama




Fantasy Sumo
World Champion



Ketsukai




GTB
World Champion



Meyeryu




Totoro's Hoshitori
World Champion



Choshu-yuki




ISP
World Champion



Bogdanyama


Juryo Game
World Champion



Zenjimoto




Paper Oyakata
World Champion



Maiyo


Sekitori-Oracle
World Champion



Ulsimitsuki


Norizo Cup
World Champion



Norizo


OBG
World Champion



Ganzohnesushi


Gunga's ISP
World Champion



Benten


Sekitori-Quad
World Champion



Kyokuhagyo


RotoSumo
World Champion



Fujisan


Sumo Game
World Champion



Sumio


Sekitori-Toto
World Champion



Golynohana


UDH
World Champion



Jakusotsu


Salarycap Sumo
World Champion



Asashosakari


2008 Sumo Games World Championship Standings:

| | | | | | | | | | | | | | | | | | | | | | | | | | | | | | |
| --- | --- | --- | --- | --- | --- | --- | --- | --- | --- | --- | --- | --- | --- | --- | --- | --- | --- | --- | --- | --- | --- | --- | --- | --- | --- | --- | --- | --- | --- |
| | PLAYER | NA | LY | Gino | Daily | Pre-B | TOT | # | G | Y | BS | CG | DTS | FS | GTB | TH | IS | JG | POG | S-O | NC | OBG | GISP | S-Q | RS | SG | S-T | UDH | SCS |
| 1 | Norizo | | 3 | 87,96 | 87,96 | 119,34 | 207,30 | 33 | 16 | 4 | 6,77 | 15,00 | 5,00 | 0,00 | 0,00 | 19,00 | 6,25 | 9,00 | 0,00 | 16,64 | 32,50 | 1,00 | 8,20 | 19,64 | 14,00 | 14,00 | 21,30 | 2,00 | 17,00 |
| 2 | Zenjimoto | | 7 | 30,21 | 30,21 | 112,75 | 142,96 | 21 | 15 | 2 | 0,00 | 2,64 | 12,00 | 0,00 | 11,00 | 6,00 | 1,00 | 24,00 | 0,00 | 16,25 | 21,00 | 12,00 | 12,00 | 0,14 | 4,50 | 2,00 | 12,43 | 6,00 | 0,00 |
| 3 | Choshu-yuki | | 12 | 16,28 | 16,28 | 123,50 | 139,78 | 16 | 8 | 3 | 0,00 | 11,64 | 0,00 | 0,00 | 0,00 | 52,00 | 0,00 | 10,00 | 0,00 | 26,00 | 15,00 | 0,00 | 10,00 | 4,64 | 0,00 | 0,00 | 0,00 | 0,00 | 10,50 |
| 4 | Susanoo | | 2 | 68,50 | 69,89 | 68,50 | 138,39 | 21 | 13 | 1 | 12,00 | 5,64 | 1,00 | 0,00 | 23,00 | 0,00 | 0,00 | 12,00 | 8,00 | 0,00 | 4,00 | 2,00 | 0,00 | 15,50 | 0,00 | 17,50 | 18,25 | 15,00 | 4,50 |
| 5 | Tosahayate | | 1 | 47,75 | 80,50 | 47,75 | 128,25 | 22 | 12 | 1 | 0,00 | 0,00 | 6,20 | 0,00 | 1,00 | 4,50 | 0,09 | 0,75 | 0,00 | 9,00 | 6,00 | 0,00 | 2,50 | 15,24 | 0,00 | 40,45 | 18,52 | 0,00 | 24,00 |
| 6 | Golynohana | | 5 | 50,83 | 73,71 | 50,83 | 124,54 | 20 | 10 | 2 | 0,00 | 7,00 | 8,00 | 0,00 | 0,00 | 0,00 | 0,00 | 0,00 | 0,00 | 27,00 | 0,00 | 0,00 | 2,50 | 8,57 | 9,00 | 23,14 | 27,00 | 8,00 | 4,33 |
| 7 | Fatakiyama | | 91 | 12,93 | 12,93 | 96,50 | 109,43 | 18 | 10 | 1 | 0,00 | 6,33 | 0,00 | 7,50 | 24,50 | 6,00 | 6,60 | 0,00 | 0,00 | 27,50 | 9,50 | 1,00 | 5,50 | 0,00 | 0,00 | 0,00 | 0,00 | 15,00 | 0,00 |
| 8 | Bunijiman | | 213 | 19,70 | 19,70 | 80,50 | 100,20 | 17 | 12 | 1 | 0,00 | 10,00 | 0,00 | 4,00 | 9,00 | 6,00 | 0,55 | 0,00 | 4,00 | 0,00 | 0,00 | 22,00 | 12,00 | 8,60 | 19,50 | 0,00 | 0,55 | 0,00 | 4,00 |
| 9 | Ulsimitsuki | | 15 | 47,85 | 47,85 | 52,00 | 99,85 | 12 | 7 | 4 | 15,00 | 0,00 | 15,00 | 0,00 | 0,00 | 0,00 | 11,32 | 0,00 | 0,00 | 30,00 | 0,00 | 0,00 | 0,00 | 0,00 | 10,00 | 0,00 | 6,53 | 12,00 | 0,00 |
| 10 | Andoreasu | | 27 | 35,00 | 60,17 | 35,00 | 95,17 | 17 | 12 | 3 | 0,00 | 0,00 | 15,00 | 0,00 | 1,50 | 0,00 | 15,00 | 9,00 | 4,00 | 13,00 | 0,00 | 0,00 | 2,50 | 1,67 | 2,00 | 17,50 | 11,00 | 3,00 | 0,00 |
| 11 | Konosato | | 24 | 44,31 | 44,31 | 50,20 | 94,51 | 18 | 11 | 2 | 16,00 | 0,00 | 8,00 | 0,00 | 0,00 | 2,50 | 0,00 | 0,00 | 0,00 | 15,00 | 0,00 | 8,00 | 10,70 | 5,38 | 0,00 | 12,95 | 1,98 | 12,00 | 2,00 |
| 12 | Ganzohnesushi | | 38 | 32,88 | 32,88 | 60,70 | 93,58 | 16 | 11 | 2 | 0,00 | 9,00 | 0,00 | 8,20 | 2,50 | 12,00 | 0,00 | 0,00 | 0,00 | 12,00 | 0,00 | 22,50 | 0,00 | 5,38 | 0,00 | 3,50 | 15,00 | 3,00 | 0,50 |
| 13 | Takanorappa | | 50 | 21,59 | 21,59 | 68,03 | 89,62 | 17 | 13 | 1 | 0,00 | 1,24 | 3,00 | 0,00 | 0,00 | 8,00 | 6,00 | 15,33 | 7,00 | 3,50 | 10,00 | 7,00 | 0,20 | 0,00 | 9,00 | 0,00 | 11,35 | 8,00 | 0,00 |
| 14 | Doitsuyama | | 9 | 43,20 | 43,20 | 43,64 | 86,84 | 16 | 10 | 0 | 14,77 | 0,00 | 21,00 | 4,00 | 0,00 | 0,00 | 0,00 | 0,00 | 0,00 | 2,14 | 0,00 | 0,00 | 3,50 | 1,07 | 12,00 | 0,00 | 6,36 | 2,00 | 20,00 |
| 15 | Asashosakari | | 74 | 3,05 | 3,05 | 82,18 | 85,23 | 14 | 8 | 3 | 0,00 | 0,00 | 0,00 | 0,00 | 1,00 | 12,00 | 0,55 | 0,00 | 0,00 | 22,25 | 16,50 | 0,00 | 0,43 | 0,00 | 0,00 | 0,00 | 2,50 | 0,00 | 30,00 |
| 16 | Mysko | | 49 | 11,52 | 11,52 | 71,50 | 83,02 | 13 | 10 | 1 | 0,00 | 3,88 | 7,50 | 0,00 | 0,00 | 15,00 | 0,00 | 0,00 | 10,00 | 8,00 | 22,00 | 8,00 | 3,50 | 0,14 | 0,00 | 0,00 | 0,00 | 5,00 | 0,00 |
| 17 | Heikotoriki | | 20 | 25,85 | 25,85 | 54,50 | 80,35 | 15 | 10 | 1 | 1,00 | 12,00 | 0,00 | 0,00 | 0,00 | 0,00 | 1,00 | 4,50 | 0,00 | 0,00 | 0,00 | 0,00 | 0,00 | 4,00 | 25,00 | 1,25 | 6,60 | 5,00 | 20,00 |
| 18 | Gonzaburow | | 35 | 16,18 | 16,18 | 62,43 | 78,61 | 15 | 13 | 2 | 0,00 | 0,00 | 0,00 | 0,00 | 1,50 | 4,00 | 1,07 | 5,50 | 10,00 | 3,00 | 10,00 | 9,00 | 0,43 | 15,00 | 2,00 | 0,00 | 0,11 | 0,00 | 17,00 |
| 19 | Randomitsuki | | 4 | 38,00 | 40,43 | 38,00 | 78,43 | 14 | 11 | 0 | 14,60 | 0,60 | 0,00 | 0,00 | 12,00 | 0,00 | 12,00 | 0,00 | 0,00 | 0,00 | 12,00 | 1,00 | 0,00 | 11,00 | 8,00 | 2,23 | 0,00 | 1,00 | 4,00 |
| 20 | Kotononami | | 41 | 26,50 | 51,22 | 26,50 | 77,72 | 18 | 10 | 1 | 13,51 | 2,64 | 0,00 | 0,00 | 6,00 | 0,00 | 15,00 | 0,00 | 0,00 | 0,00 | 0,00 | 1,00 | 3,50 | 13,21 | 0,00 | 6,75 | 0,11 | 16,00 | 0,00 |
| 21 | Misisko | | 111 | 31,38 | 31,38 | 46,00 | 77,38 | 15 | 8 | 1 | 0,00 | 0,00 | 0,00 | 7,50 | 0,00 | 0,00 | 10,00 | 8,50 | 0,00 | 8,00 | 0,00 | 0,00 | 22,00 | 13,21 | 0,00 | 3,50 | 4,67 | 0,00 | 0,00 |
| 22 | Kintamayama | | 26 | 25,03 | 25,03 | 52,00 | 77,03 | 18 | 9 | 0 | 17,60 | 2,00 | 0,00 | 0,00 | 0,00 | 0,00 | 4,00 | 5,00 | 0,00 | 0,00 | 13,00 | 0,00 | 0,00 | 0,00 | 16,00 | 0,00 | 1,43 | 17,00 | 1,00 |
| 23 | Shiyonofuji | | 71 | 30,20 | 42,39 | 30,20 | 72,59 | 10 | 7 | 2 | 0,00 | 9,00 | 0,00 | 0,00 | 0,00 | 0,00 | 15,00 | 0,00 | 0,00 | 0,00 | 0,00 | 15,00 | 5,20 | 4,00 | 0,00 | 14,39 | 0,00 | 0,00 | 10,00 |
| 24 | Heruwejima | | 21 | 25,05 | 25,05 | 46,00 | 71,05 | 12 | 12 | 1 | 6,60 | 1,24 | 3,00 | 0,00 | 7,00 | 0,00 | 1,07 | 8,00 | 0,00 | 11,00 | 0,00 | 0,00 | 0,00 | 4,64 | 0,00 | 1,25 | 7,25 | 5,00 | 15,00 |
| 25 | Fujisan | | 10 | 20,37 | 20,37 | 50,50 | 70,87 | 10 | 6 | 2 | 2,14 | 0,00 | 0,00 | 0,00 | 0,00 | 0,00 | 0,00 | 10,00 | 0,00 | 0,00 | 0,00 | 0,00 | 3,50 | 4,00 | 37,00 | 14,23 | 0,00 | 0,00 | 0,00 |
| 26 | Gernobono | | 36 | 28,78 | 28,78 | 41,00 | 69,78 | 14 | 9 | 0 | 0,00 | 3,88 | 0,00 | 0,00 | 10,00 | 1,50 | 0,00 | 0,00 | 0,00 | 0,00 | 0,00 | 0,00 | 3,50 | 12,00 | 0,00 | 7,25 | 5,65 | 17,00 | 9,00 |
| 27 | Charliki | | 46 | 19,77 | 19,77 | 48,14 | 67,91 | 12 | 7 | 1 | 19,77 | 0,00 | 0,00 | 0,00 | 2,00 | 0,00 | 0,00 | 3,00 | 0,00 | 6,14 | 0,00 | 10,00 | 0,00 | 0,00 | 15,00 | 0,00 | 0,00 | 12,00 | 0,00 |
| 28 | Benten | | 205 | 0,00 | 0,00 | 65,00 | 65,00 | 7 | 3 | 3 | 0,00 | 0,00 | 0,00 | 0,00 | 0,00 | 32,00 | 0,00 | 0,00 | 0,00 | 0,00 | 0,00 | 0,00 | 27,00 | 0,00 | 0,00 | 0,00 | 0,00 | 6,00 | 0,00 |
| 29 | Meyeryu | | 25 | 22,35 | 22,35 | 40,76 | 63,11 | 12 | 9 | 2 | 0,00 | 0,00 | 4,50 | 0,00 | 30,00 | 1,00 | 1,25 | 0,00 | 0,00 | 5,50 | 0,00 | 0,00 | 3,93 | 10,00 | 0,00 | 0,00 | 6,60 | 0,00 | 0,33 |
| 30 | Hironoumi | | 33 | 7,20 | 7,20 | 53,25 | 60,45 | 10 | 8 | 0 | 0,00 | 0,00 | 0,00 | 10,00 | 11,00 | 2,50 | 0,00 | 0,00 | 6,00 | 8,75 | 0,00 | 5,00 | 10,00 | 7,20 | 0,00 | 0,00 | 0,00 | 0,00 | 0,00 |
| 31 | Dimitri | | 8 | 9,60 | 9,60 | 50,00 | 59,60 | 8 | 5 | 1 | 6,60 | 0,00 | 3,00 | 8,00 | 0,00 | 0,00 | 0,00 | 0,00 | 0,00 | 0,00 | 0,00 | 0,00 | 17,00 | 0,00 | 25,00 | 0,00 | 0,00 | 0,00 | 0,00 |
| 32 | Frinkanohana | | 23 | 20,67 | 20,67 | 37,89 | 58,56 | 13 | 9 | 0 | 12,00 | 0,00 | 1,00 | 0,00 | 5,00 | 9,00 | 6,60 | 0,00 | 0,00 | 8,39 | 0,00 | 0,00 | 0,00 | 1,07 | 7,50 | 0,00 | 0,00 | 0,00 | 8,00 |
| 33 | Jejima | | 47 | 1,24 | 1,24 | 56,50 | 57,74 | 6 | 5 | 1 | 0,00 | 1,24 | 0,00 | 0,00 | 15,00 | 5,50 | 0,00 | 12,00 | 0,00 | 0,00 | 0,00 | 0,00 | 0,00 | 0,00 | 24,00 | 0,00 | 0,00 | 0,00 | 0,00 |
| 34 | Flohru | | 14 | 14,22 | 14,22 | 43,14 | 57,36 | 12 | 8 | 0 | 0,00 | 0,00 | 1,50 | 0,00 | 12,00 | 0,00 | 0,00 | 0,00 | 0,00 | 4,14 | 0,00 | 0,00 | 0,00 | 0,00 | 5,00 | 7,62 | 5,10 | 10,00 | 12,00 |
| 35 | Ketsukai | | 11 | 20,38 | 20,38 | 36,70 | 57,08 | 10 | 7 | 2 | 0,00 | 1,24 | 0,00 | 15,20 | 0,00 | 0,00 | 0,00 | 5,00 | 0,00 | 0,00 | 0,00 | 6,50 | 0,00 | 15,00 | 0,00 | 4,14 | 0,00 | 10,00 | 0,00 |
| 36 | Kaiowaka | | 42 | 22,00 | 33,79 | 22,00 | 55,79 | 11 | 9 | 1 | 0,00 | 10,00 | 15,00 | 2,00 | 0,00 | 0,00 | 0,25 | 0,00 | 0,00 | 0,00 | 8,00 | 0,00 | 0,00 | 6,31 | 0,00 | 2,23 | 0,00 | 6,00 | 6,00 |
| 37 | Taka (Denmark) | | 13 | 20,97 | 20,97 | 34,66 | 55,63 | 13 | 9 | 0 | 0,00 | 0,00 | 1,50 | 6,33 | 0,00 | 4,00 | 11,25 | 0,00 | 0,33 | 14,00 | 0,00 | 0,00 | 0,00 | 7,67 | 0,00 | 0,00 | 0,55 | 10,00 | 0,00 |
| 38 | Kitakachiyama | | 66 | 22,87 | 22,87 | 32,75 | 55,62 | 13 | 9 | 1 | 0,00 | 4,00 | 0,50 | 0,00 | 0,00 | 0,00 | 1,62 | 0,00 | 0,00 | 11,75 | 0,00 | 6,00 | 15,00 | 4,64 | 0,00 | 12,00 | 0,11 | 0,00 | 0,00 |
| 39 | Bafa | | 19 | 1,24 | 1,24 | 53,70 | 54,94 | 9 | 7 | 2 | 0,00 | 1,24 | 0,00 | 0,00 | 16,00 | 0,00 | 0,00 | 4,50 | 1,00 | 0,00 | 0,00 | 15,00 | 0,20 | 0,00 | 0,00 | 0,00 | 0,00 | 17,00 | 0,00 |
| 40 | Sashimaru | | 28 | 15,50 | 37,10 | 15,50 | 52,60 | 7 | 6 | 0 | 22,00 | 10,00 | 0,00 | 0,00 | 0,00 | 0,00 | 0,00 | 0,00 | 0,00 | 0,00 | 0,00 | 0,00 | 3,50 | 0,00 | 10,00 | 0,00 | 5,10 | 0,00 | 2,00 |
| 41 | Terarno | | 101 | 10,00 | 10,00 | 42,50 | 52,50 | 6 | 5 | 1 | 0,00 | 10,00 | 0,00 | 0,00 | 3,50 | 14,00 | 0,00 | 0,00 | 15,00 | 0,00 | 0,00 | 0,00 | 0,00 | 0,00 | 0,00 | 0,00 | 0,00 | 0,00 | 10,00 |
| 42 | Krokonowaka | | 158 | 2,50 | 49,75 | 2,50 | 52,25 | 7 | 5 | 2 | 0,00 | 15,00 | 13,50 | 0,00 | 0,00 | 0,00 | 6,25 | 0,00 | 0,00 | 0,00 | 0,00 | 0,00 | 2,50 | 0,00 | 0,00 | 0,00 | 15,00 | 0,00 | 0,00 |
| 43 | Kyokuhagyo | | 214 | 25,50 | 26,00 | 25,50 | 51,50 | 7 | 4 | 1 | 0,00 | 3,50 | 0,00 | 0,00 | 4,50 | 0,00 | 0,00 | 0,00 | 0,00 | 21,00 | 0,00 | 0,00 | 0,00 | 22,50 | 0,00 | 0,00 | 0,00 | 0,00 | 0,00 |
| 44 | Bogdanyama | | NR | 0,00 | 49,84 | 0,00 | 49,84 | 9 | 4 | 1 | 0,00 | 0,00 | 3,00 | 0,00 | 0,00 | 0,00 | 36,09 | 0,00 | 0,00 | 0,00 | 0,00 | 0,00 | 0,00 | 8,14 | 0,00 | 0,00 | 2,61 | 0,00 | 0,00 |
| 45 | Jakusotsu | | 45 | 16,94 | 16,94 | 31,64 | 48,58 | 11 | 6 | 0 | 9,63 | 2,64 | 0,00 | 0,00 | 0,00 | 0,00 | 0,00 | 0,00 | 0,00 | 5,14 | 4,50 | 0,00 | 0,00 | 0,00 | 0,00 | 0,00 | 4,67 | 22,00 | 0,00 |
| 46 | Mmikasazuma | | 32 | 14,50 | 32,72 | 14,50 | 47,22 | 9 | 6 | 0 | 0,00 | 10,50 | 0,00 | 0,00 | 0,00 | 3,50 | 12,55 | 0,00 | 0,00 | 0,00 | 0,00 | 0,00 | 11,00 | 4,57 | 0,00 | 0,00 | 5,10 | 0,00 | 0,00 |
| 47 | Pastanoyama | | 43 | 15,60 | 15,60 | 31,03 | 46,63 | 8 | 7 | 1 | 0,00 | 0,60 | 0,00 | 0,20 | 0,00 | 12,00 | 0,00 | 12,33 | 0,00 | 0,00 | 0,00 | 0,00 | 2,50 | 15,00 | 4,00 | 0,00 | 0,00 | 0,00 | 0,00 |
| 48 | Sumio | | 187 | 0,00 | 44,43 | 0,00 | 44,43 | 5 | 1 | 1 | 0,00 | 0,00 | 0,00 | 0,00 | 0,00 | 0,00 | 0,00 | 0,00 | 0,00 | 0,00 | 0,00 | 0,00 | 0,00 | 0,00 | 0,00 | 44,43 | 0,00 | 0,00 | 0,00 |
| 49 | Gaijingai | | 75 | 18,00 | 25,42 | 18,00 | 43,42 | 6 | 5 | 0 | 0,00 | 0,00 | 0,00 | 0,00 | 8,00 | 0,00 | 10,00 | 0,00 | 0,00 | 0,00 | 0,00 | 0,00 | 10,00 | 3,50 | 0,00 | 0,00 | 11,92 | 0,00 | 0,00 |
| 50 | Sukubidubidu | | 68 | 6,14 | 6,14 | 37,00 | 43,14 | 7 | 6 | 0 | 0,00 | 2,64 | 0,00 | 0,00 | 0,00 | 20,00 | 1,00 | 0,00 | 0,00 | 0,00 | 0,00 | 0,00 | 0,00 | 0,00 | 12,00 | 0,00 | 2,50 | 5,00 | 0,00 |
| 51 | Seki Haruaki | | 87 | 0,00 | 0,00 | 40,00 | 40,00 | 5 | 3 | 2 | 0,00 | 0,00 | 0,00 | 0,00 | 20,50 | 4,50 | 0,00 | 0,00 | 0,00 | 0,00 | 0,00 | 0,00 | 15,00 | 0,00 | 0,00 | 0,00 | 0,00 | 0,00 | 0,00 |
| 52 | Akemisamaru | | 61 | 8,00 | 8,00 | 31,00 | 39,00 | 5 | 4 | 1 | 0,00 | 0,00 | 0,00 | 4,00 | 0,00 | 10,00 | 8,00 | 0,00 | 0,00 | 0,00 | 0,00 | 0,00 | 0,00 | 0,00 | 17,00 | 0,00 | 0,00 | 0,00 | 0,00 |
| 53 | Araiwa | | 30 | 15,00 | 15,00 | 23,70 | 38,70 | 6 | 4 | 1 | 0,00 | 0,00 | 15,00 | 0,20 | 0,00 | 0,00 | 0,00 | 0,00 | 0,00 | 0,00 | 0,00 | 0,00 | 2,50 | 0,00 | 0,00 | 0,00 | 0,00 | 0,00 | 21,00 |
| 54 | Ekigozan | | 17 | 9,50 | 29,13 | 9,50 | 38,63 | 9 | 6 | 0 | 8,00 | 0,00 | 0,00 | 0,00 | 0,00 | 0,00 | 0,55 | 0,00 | 0,00 | 9,50 | 0,00 | 0,00 | 0,00 | 12,00 | 0,00 | 3,48 | 5,10 | 0,00 | 0,00 |
| 55 | Mariotoki | | 84 | 16,54 | 16,54 | 22,00 | 38,54 | 6 | 4 | 1 | 0,00 | 0,00 | 15,00 | 0,00 | 0,00 | 0,00 | 0,00 | 10,00 | 0,00 | 0,00 | 0,00 | 0,00 | 0,00 | 0,00 | 12,00 | 0,00 | 1,54 | 0,00 | 0,00 |
| 56 | Leonishiki | | 18 | 19,00 | 19,43 | 19,00 | 38,43 | 8 | 7 | 1 | 0,00 | 2,00 | 0,00 | 0,00 | 0,00 | 0,00 | 6,25 | 0,00 | 0,00 | 0,00 | 0,00 | 0,00 | 1,00 | 11,07 | 0,00 | 0,00 | 0,11 | 15,00 | 3,00 |
| 57 | Oshirokita | | 85 | 16,00 | 16,00 | 22,20 | 38,20 | 6 | 5 | 0 | 11,00 | 0,00 | 5,00 | 0,00 | 12,00 | 5,00 | 0,00 | 0,00 | 0,00 | 0,00 | 0,00 | 0,00 | 5,20 | 0,00 | 0,00 | 0,00 | 0,00 | 0,00 | 0,00 |
| 58 | Bill | | 60 | 15,00 | 22,11 | 15,00 | 37,11 | 8 | 7 | 0 | 0,00 | 7,00 | 0,00 | 0,00 | 3,00 | 0,00 | 7,00 | 6,00 | 0,00 | 0,00 | 6,00 | 0,00 | 0,00 | 8,00 | 0,00 | 0,00 | 0,11 | 0,00 | 0,00 |
| 59 | Kofuji | | 122 | 14,93 | 22,07 | 14,93 | 37,00 | 7 | 6 | 0 | 0,00 | 11,00 | 0,00 | 10,00 | 0,00 | 0,00 | 1,07 | 4,50 | 0,00 | 0,00 | 0,00 | 0,00 | 0,43 | 10,00 | 0,00 | 0,00 | 0,00 | 0,00 | 0,00 |
| 60 | Ryumaru | | NR | 0,00 | 0,00 | 37,00 | 37,00 | 3 | 1 | 1 | 0,00 | 0,00 | 0,00 | 0,00 | 0,00 | 0,00 | 0,00 | 0,00 | 0,00 | 0,00 | 0,00 | 0,00 | 0,00 | 0,00 | 37,00 | 0,00 | 0,00 | 0,00 | 0,00 |
| 61 | Mariohana | | 16 | 13,75 | 21,79 | 13,75 | 35,54 | 13 | 8 | 0 | 10,14 | 0,00 | 9,33 | 0,00 | 8,00 | 2,00 | 1,25 | 0,00 | 0,00 | 2,75 | 0,00 | 0,00 | 0,00 | 1,07 | 1,00 | 0,00 | 0,00 | 0,00 | 0,00 |
| 62 | Tsupparitaro | | 70 | 0,00 | 0,00 | 35,50 | 35,50 | 3 | 3 | 2 | 0,00 | 0,00 | 0,00 | 0,00 | 0,00 | 0,00 | 0,00 | 0,00 | 15,00 | 0,00 | 5,50 | 15,00 | 0,00 | 0,00 | 0,00 | 0,00 | 0,00 | 0,00 | 0,00 |
| 63 | Maiyo | | NR | 0,00 | 0,00 | 35,00 | 35,00 | 4 | 3 | 1 | 0,00 | 0,00 | 0,00 | 0,00 | 0,00 | 0,00 | 0,00 | 0,00 | 25,00 | 0,00 | 6,00 | 4,00 | 0,00 | 0,00 | 0,00 | 0,00 | 0,00 | 0,00 | 0,00 |
| 64 | Gusoyama | | 48 | 10,38 | 10,38 | 24,50 | 34,88 | 8 | 4 | 0 | 0,33 | 0,00 | 0,00 | 0,00 | 0,00 | 0,00 | 10,05 | 10,00 | 0,00 | 0,00 | 0,00 | 0,00 | 0,00 | 0,00 | 14,50 | 0,00 | 0,00 | 0,00 | 0,00 |
| 65 | Sekihiryu | | 157 | 11,00 | 23,50 | 11,00 | 34,50 | 5 | 4 | 0 | 0,00 | 0,00 | 0,00 | 0,00 | 0,00 | 0,00 | 6,00 | 0,00 | 0,00 | 0,00 | 0,00 | 0,00 | 11,00 | 5,50 | 0,00 | 0,00 | 12,00 | 0,00 | 0,00 |
| 66 | Anjoboshi | | 22 | 14,10 | 14,10 | 20,00 | 34,10 | 4 | 4 | 0 | 0,00 | 0,00 | 0,00 | 0,00 | 0,00 | 0,00 | 6,60 | 0,00 | 0,00 | 0,00 | 0,00 | 0,00 | 0,00 | 7,50 | 8,00 | 0,00 | 0,00 | 0,00 | 12,00 |
| 67 | Gorgoro | | 281 | 0,00 | 0,00 | 33,00 | 33,00 | 3 | 3 | 2 | 0,00 | 0,00 | 0,00 | 0,00 | 15,00 | 0,00 | 0,00 | 0,00 | 0,00 | 3,00 | 0,00 | 0,00 | 0,00 | 0,00 | 0,00 | 0,00 | 0,00 | 15,00 | 0,00 |
| 68 | Huumi | | 215 | 0,00 | 32,23 | 0,00 | 32,23 | 3 | 2 | 2 | 0,00 | 0,00 | 0,00 | 0,00 | 0,00 | 0,00 | 0,00 | 0,00 | 0,00 | 0,00 | 0,00 | 0,00 | 0,00 | 0,00 | 0,00 | 17,23 | 15,00 | 0,00 | 0,00 |
| 69 | Ryuu | | 312 | 0,00 | 0,00 | 32,00 | 32,00 | 3 | 2 | 1 | 0,00 | 0,00 | 0,00 | 0,00 | 0,00 | 0,00 | 0,00 | 0,00 | 0,00 | 0,00 | 12,00 | 20,00 | 0,00 | 0,00 | 0,00 | 0,00 | 0,00 | 0,00 | 0,00 |
| 70 | Metzinowaka | | 29 | 7,58 | 24,13 | 7,58 | 31,71 | 8 | 7 | 1 | 2,63 | 0,00 | 0,00 | 0,00 | 0,00 | 0,00 | 0,25 | 4,33 | 0,00 | 0,25 | 0,00 | 0,00 | 0,00 | 15,00 | 0,00 | 0,00 | 6,25 | 3,00 | 0,00 |
| 71 | Biggod | | NR | 0,00 | 0,00 | 31,50 | 31,50 | 4 | 3 | 0 | 0,00 | 0,00 | 0,00 | 0,00 | 0,00 | 0,00 | 0,00 | 0,00 | 12,00 | 0,00 | 7,50 | 12,00 | 0,00 | 0,00 | 0,00 | 0,00 | 0,00 | 0,00 | 0,00 |
| 72 | Yosouou | | 53 | 0,00 | 0,00 | 31,00 | 31,00 | 5 | 3 | 0 | 0,00 | 0,00 | 0,00 | 0,00 | 0,00 | 0,00 | 0,00 | 0,00 | 12,00 | 0,00 | 12,00 | 7,00 | 0,00 | 0,00 | 0,00 | 0,00 | 0,00 | 0,00 | 0,00 |
| 73 | Zichi | | 171 | 0,00 | 0,00 | 31,00 | 31,00 | 4 | 2 | 0 | 0,00 | 0,00 | 0,00 | 0,00 | 0,00 | 0,00 | 0,00 | 0,00 | 10,00 | 0,00 | 0,00 | 21,00 | 0,00 | 0,00 | 0,00 | 0,00 | 0,00 | 0,00 | 0,00 |
| 74 | Kintaro | | 141 | 0,00 | 0,00 | 30,50 | 30,50 | 5 | 3 | 1 | 0,00 | 0,00 | 0,00 | 0,00 | 0,00 | 13,00 | 0,00 | 0,00 | 0,00 | 0,00 | 0,00 | 0,00 | 13,50 | 0,00 | 0,00 | 0,00 | 0,00 | 4,00 | 0,00 |
| 75 | Zeokage | | 90 | 0,50 | 0,50 | 29,93 | 30,43 | 7 | 6 | 1 | 0,00 | 0,50 | 0,00 | 0,00 | 1,50 | 7,00 | 0,00 | 0,00 | 0,00 | 0,00 | 0,00 | 6,00 | 0,43 | 0,00 | 0,00 | 0,00 | 0,00 | 15,00 | 0,00 |
| 76 | Chabonowaka | | 212 | 0,00 | 29,60 | 0,00 | 29,60 | 3 | 1 | 1 | 29,60 | 0,00 | 0,00 | 0,00 | 0,00 | 0,00 | 0,00 | 0,00 | 0,00 | 0,00 | 0,00 | 0,00 | 0,00 | 0,00 | 0,00 | 0,00 | 0,00 | 0,00 | 0,00 |
| 77 | Rannohana | | 31 | 0,00 | 29,44 | 0,00 | 29,44 | 6 | 4 | 0 | 6,60 | 8,17 | 0,00 | 0,00 | 0,00 | 0,00 | 0,00 | 0,00 | 0,00 | 0,00 | 0,00 | 0,00 | 0,00 | 10,00 | 0,00 | 0,00 | 4,67 | 0,00 | 0,00 |
| 78 | Yumezukuri | | 321 | 0,00 | 29,20 | 0,00 | 29,20 | 3 | 1 | 0 | 0,00 | 0,00 | 0,00 | 0,00 | 0,00 | 0,00 | 0,00 | 0,00 | 0,00 | 0,00 | 0,00 | 0,00 | 0,00 | 0,00 | 0,00 | 29,20 | 0,00 | 0,00 | 0,00 |
| 79 | Pandaazuma | | NR | 4,00 | 25,00 | 4,00 | 29,00 | 3 | 3 | 1 | 0,00 | 15,00 | 0,00 | 4,00 | 0,00 | 0,00 | 0,00 | 0,00 | 0,00 | 0,00 | 0,00 | 0,00 | 0,00 | 0,00 | 0,00 | 10,00 | 0,00 | 0,00 | 0,00 |
| 80 | Takatamale | | 265 | 7,00 | 22,00 | 7,00 | 29,00 | 3 | 2 | 0 | 22,00 | 0,00 | 0,00 | 0,00 | 0,00 | 7,00 | 0,00 | 0,00 | 0,00 | 0,00 | 0,00 | 0,00 | 0,00 | 0,00 | 0,00 | 0,00 | 0,00 | 0,00 | 0,00 |
| 81 | Tainosen | | 57 | 13,00 | 13,00 | 15,50 | 28,50 | 5 | 5 | 0 | 0,00 | 0,00 | 12,00 | 0,00 | 0,00 | 0,00 | 1,00 | 4,50 | 0,00 | 0,00 | 8,00 | 0,00 | 0,00 | 0,00 | 0,00 | 0,00 | 0,00 | 3,00 | 0,00 |
| 82 | Tamanaogijima | | 6 | 6,60 | 6,60 | 21,25 | 27,85 | 7 | 5 | 0 | 0,00 | 0,00 | 0,00 | 0,00 | 3,50 | 0,00 | 6,60 | 4,75 | 0,00 | 0,00 | 0,00 | 0,00 | 0,00 | 0,00 | 9,00 | 0,00 | 0,00 | 0,00 | 4,00 |
| 83 | Nikishima | | NR | 12,00 | 15,00 | 12,00 | 27,00 | 2 | 2 | 1 | 0,00 | 0,00 | 0,00 | 0,00 | 12,00 | 0,00 | 0,00 | 0,00 | 0,00 | 0,00 | 0,00 | 0,00 | 0,00 | 0,00 | 0,00 | 0,00 | 15,00 | 0,00 | 0,00 |
| 84 | Sherlockiama | | NR | 0,75 | 0,75 | 25,50 | 26,25 | 6 | 4 | 1 | 0,00 | 0,00 | 0,00 | 15,00 | 0,00 | 0,00 | 0,09 | 0,00 | 0,00 | 0,00 | 0,00 | 0,00 | 10,50 | 0,00 | 0,00 | 0,00 | 0,66 | 0,00 | 0,00 |
| 85 | Manatsumai | | 341 | 2,00 | 24,24 | 2,00 | 26,24 | 5 | 4 | 0 | 0,00 | 13,24 | 10,00 | 0,00 | 2,00 | 0,00 | 1,00 | 0,00 | 0,00 | 0,00 | 0,00 | 0,00 | 0,00 | 0,00 | 0,00 | 0,00 | 0,00 | 0,00 | 0,00 |
| 86 | B-sann | | NR | 0,00 | 0,00 | 25,00 | 25,00 | 2 | 1 | 1 | 0,00 | 0,00 | 0,00 | 0,00 | 0,00 | 0,00 | 0,00 | 0,00 | 0,00 | 0,00 | 25,00 | 0,00 | 0,00 | 0,00 | 0,00 | 0,00 | 0,00 | 0,00 | 0,00 |
| 87 | C-sann | | NR | 0,00 | 0,00 | 25,00 | 25,00 | 2 | 2 | 1 | 0,00 | 0,00 | 0,00 | 0,00 | 0,00 | 0,00 | 0,00 | 0,00 | 15,00 | 0,00 | 0,00 | 10,00 | 0,00 | 0,00 | 0,00 | 0,00 | 0,00 | 0,00 | 0,00 |
| 88 | Musafaba | | NR | 0,00 | 25,00 | 0,00 | 25,00 | 2 | 2 | 1 | 0,00 | 15,00 | 0,00 | 0,00 | 0,00 | 0,00 | 10,00 | 0,00 | 0,00 | 0,00 | 0,00 | 0,00 | 0,00 | 0,00 | 0,00 | 0,00 | 0,00 | 0,00 | 0,00 |
| 89 | Kaiomitsuki | | NR | 10,93 | 13,07 | 10,93 | 24,00 | 6 | 6 | 0 | 0,00 | 12,00 | 0,00 | 0,00 | 8,00 | 0,00 | 1,07 | 0,00 | 0,00 | 0,00 | 0,00 | 0,00 | 0,43 | 0,00 | 1,00 | 0,00 | 0,00 | 1,50 | 0,00 |
| 90 | Konizan | | 40 | 0,20 | 23,64 | 0,20 | 23,84 | 4 | 3 | 1 | 0,00 | 17,64 | 0,00 | 0,00 | 0,00 | 0,00 | 6,00 | 0,00 | 0,00 | 0,00 | 0,00 | 0,00 | 0,20 | 0,00 | 0,00 | 0,00 | 0,00 | 0,00 | 0,00 |
| 91 | Kitano | | 198 | 6,10 | 6,10 | 17,00 | 23,10 | 4 | 4 | 0 | 0,00 | 0,00 | 0,00 | 0,00 | 0,00 | 12,00 | 1,00 | 0,00 | 0,00 | 0,00 | 0,00 | 0,00 | 0,00 | 0,00 | 0,00 | 0,00 | 5,10 | 5,00 | 0,00 |
| 92 | Taxinohana | | 253 | 9,50 | 13,57 | 9,50 | 23,07 | 5 | 4 | 0 | 0,00 | 1,24 | 6,33 | 0,00 | 9,50 | 0,00 | 6,00 | 0,00 | 0,00 | 0,00 | 0,00 | 0,00 | 0,00 | 0,00 | 0,00 | 0,00 | 0,00 | 0,00 | 0,00 |
| 93 | Junboko | | 223 | 0,00 | 0,00 | 23,00 | 23,00 | 2 | 2 | 1 | 0,00 | 0,00 | 0,00 | 0,00 | 0,00 | 0,00 | 0,00 | 0,00 | 15,00 | 0,00 | 0,00 | 8,00 | 0,00 | 0,00 | 0,00 | 0,00 | 0,00 | 0,00 | 0,00 |
| 94 | Shimoryu | | NR | 0,00 | 22,64 | 0,00 | 22,64 | 4 | 1 | 1 | 22,64 | 0,00 | 0,00 | 0,00 | 0,00 | 0,00 | 0,00 | 0,00 | 0,00 | 0,00 | 0,00 | 0,00 | 0,00 | 0,00 | 0,00 | 0,00 | 0,00 | 0,00 | 0,00 |
| 95 | Itachiyama | | 113 | 8,00 | 14,64 | 8,00 | 22,64 | 5 | 3 | 0 | 9,14 | 0,00 | 5,50 | 0,00 | 0,00 | 0,00 | 0,00 | 0,00 | 0,00 | 0,00 | 0,00 | 0,00 | 0,00 | 0,00 | 0,00 | 0,00 | 0,00 | 8,00 | 0,00 |
| 96 | Kaiguma | | 181 | 0,00 | 0,00 | 22,50 | 22,50 | 3 | 3 | 0 | 0,00 | 0,00 | 0,00 | 10,00 | 1,50 | 0,00 | 0,00 | 0,00 | 0,00 | 11,00 | 0,00 | 0,00 | 0,00 | 0,00 | 0,00 | 0,00 | 0,00 | 0,00 | 0,00 |
| 97 | Asahi | | 69 | 0,00 | 0,00 | 22,50 | 22,50 | 3 | 3 | 1 | 0,00 | 0,00 | 0,00 | 0,00 | 0,00 | 0,00 | 0,00 | 15,00 | 0,00 | 0,00 | 4,00 | 0,00 | 3,50 | 0,00 | 0,00 | 0,00 | 0,00 | 0,00 | 0,00 |
| 98 | Takanokaze | | NR | 7,15 | 7,15 | 15,00 | 22,15 | 3 | 3 | 1 | 0,00 | 0,00 | 0,00 | 0,00 | 0,00 | 0,00 | 0,00 | 0,00 | 0,00 | 15,00 | 0,00 | 0,00 | 0,00 | 6,60 | 0,00 | 0,00 | 0,55 | 0,00 | 0,00 |
| 99 | Feginowaka | | 160 | 7,00 | 7,00 | 15,00 | 22,00 | 3 | 2 | 1 | 0,00 | 7,00 | 0,00 | 0,00 | 15,00 | 0,00 | 0,00 | 0,00 | 0,00 | 0,00 | 0,00 | 0,00 | 0,00 | 0,00 | 0,00 | 0,00 | 0,00 | 0,00 | 0,00 |
| 100 | Kouseien | | 154 | 0,00 | 0,00 | 21,33 | 21,33 | 3 | 2 | 0 | 0,00 | 0,00 | 0,00 | 0,00 | 0,00 | 0,00 | 0,00 | 0,00 | 18,33 | 0,00 | 3,00 | 0,00 | 0,00 | 0,00 | 0,00 | 0,00 | 0,00 | 0,00 | 0,00 |
| 101 | Qijuryu | | 142 | 0,00 | 21,33 | 0,00 | 21,33 | 3 | 2 | 0 | 0,00 | 6,33 | 15,00 | 0,00 | 0,00 | 0,00 | 0,00 | 0,00 | 0,00 | 0,00 | 0,00 | 0,00 | 0,00 | 0,00 | 0,00 | 0,00 | 0,00 | 0,00 | 0,00 |
| 102 | Iepii | | 147 | 6,25 | 6,25 | 15,00 | 21,25 | 2 | 2 | 1 | 0,00 | 0,00 | 0,00 | 0,00 | 0,00 | 0,00 | 0,00 | 0,00 | 0,00 | 0,00 | 0,00 | 15,00 | 0,00 | 0,00 | 0,00 | 0,00 | 6,25 | 0,00 | 0,00 |
| 103 | Chiisabuke | | 59 | 5,00 | 16,21 | 5,00 | 21,21 | 4 | 3 | 1 | 0,00 | 0,00 | 0,00 | 0,00 | 0,00 | 0,00 | 15,00 | 0,00 | 0,00 | 0,00 | 0,00 | 5,00 | 0,00 | 1,21 | 0,00 | 0,00 | 0,00 | 0,00 | 0,00 |
| 104 | Yuushuuyama | | 210 | 0,00 | 0,00 | 21,00 | 21,00 | 3 | 1 | 0 | 0,00 | 0,00 | 0,00 | 0,00 | 0,00 | 0,00 | 0,00 | 0,00 | 0,00 | 0,00 | 21,00 | 0,00 | 0,00 | 0,00 | 0,00 | 0,00 | 0,00 | 0,00 | 0,00 |
| 105 | Igiski | | 64 | 6,00 | 14,10 | 6,00 | 20,10 | 4 | 4 | 0 | 6,60 | 0,00 | 0,00 | 0,00 | 0,00 | 0,00 | 0,00 | 0,00 | 0,00 | 0,00 | 0,00 | 0,00 | 0,00 | 0,00 | 0,00 | 1,25 | 6,25 | 6,00 | 0,00 |
| 106 | Holleshoryu | | 67 | 6,25 | 13,15 | 6,25 | 19,40 | 7 | 5 | 0 | 0,00 | 0,00 | 11,00 | 0,00 | 5,50 | 0,00 | 1,55 | 0,75 | 0,00 | 0,00 | 0,00 | 0,00 | 0,00 | 0,60 | 0,00 | 0,00 | 0,00 | 0,00 | 0,00 |
| 107 | Boltono | | 143 | 0,00 | 0,00 | 19,00 | 19,00 | 2 | 2 | 0 | 0,00 | 0,00 | 0,00 | 0,00 | 0,00 | 10,00 | 0,00 | 9,00 | 0,00 | 0,00 | 0,00 | 0,00 | 0,00 | 0,00 | 0,00 | 0,00 | 0,00 | 0,00 | 0,00 |
| 108 | Chocshoporyu | | 88 | 0,33 | 18,39 | 0,33 | 18,72 | 5 | 3 | 0 | 0,00 | 3,50 | 0,00 | 0,33 | 0,00 | 0,00 | 0,00 | 0,00 | 0,00 | 0,00 | 0,00 | 0,00 | 0,00 | 0,00 | 0,00 | 14,89 | 0,00 | 0,00 | 0,00 |
| 109 | Sashohikufuhen | | 371 | 6,60 | 6,60 | 12,00 | 18,60 | 2 | 2 | 0 | 0,00 | 0,00 | 0,00 | 0,00 | 0,00 | 12,00 | 0,00 | 0,00 | 0,00 | 0,00 | 0,00 | 0,00 | 0,00 | 6,60 | 0,00 | 0,00 | 0,00 | 0,00 | 0,00 |
| 110 | Yanen | | 65 | 0,00 | 0,00 | 18,50 | 18,50 | 4 | 3 | 1 | 0,00 | 0,00 | 0,00 | 0,00 | 0,00 | 0,00 | 0,00 | 0,00 | 0,00 | 0,00 | 0,00 | 0,00 | 13,50 | 0,00 | 0,00 | 0,00 | 0,00 | 2,00 | 3,00 |
| 111 | Kaiou | | 174 | 0,00 | 0,00 | 18,00 | 18,00 | 2 | 1 | 0 | 0,00 | 0,00 | 0,00 | 0,00 | 0,00 | 0,00 | 0,00 | 0,00 | 18,00 | 0,00 | 0,00 | 0,00 | 0,00 | 0,00 | 0,00 | 0,00 | 0,00 | 0,00 | 0,00 |
| 112 | Yokochonoinkyo | | 218 | 0,00 | 0,00 | 18,00 | 18,00 | 3 | 3 | 0 | 0,00 | 0,00 | 0,00 | 0,00 | 0,00 | 0,00 | 0,00 | 0,00 | 3,00 | 0,00 | 4,00 | 11,00 | 0,00 | 0,00 | 0,00 | 0,00 | 0,00 | 0,00 | 0,00 |
| 113 | Zentoryu | | NR | 0,00 | 0,00 | 18,00 | 18,00 | 2 | 1 | 0 | 0,00 | 0,00 | 0,00 | 0,00 | 0,00 | 0,00 | 0,00 | 0,00 | 0,00 | 0,00 | 0,00 | 0,00 | 0,00 | 0,00 | 18,00 | 0,00 | 0,00 | 0,00 | 0,00 |
| 114 | Pitinosato | | 175 | 3,00 | 14,87 | 3,00 | 17,87 | 5 | 2 | 0 | 14,87 | 0,00 | 0,00 | 0,00 | 3,00 | 0,00 | 0,00 | 0,00 | 0,00 | 0,00 | 0,00 | 0,00 | 0,00 | 0,00 | 0,00 | 0,00 | 0,00 | 0,00 | 0,00 |
| 115 | Tsunamiko | | 365 | 5,50 | 12,33 | 5,50 | 17,83 | 5 | 4 | 0 | 8,74 | 3,50 | 0,00 | 0,00 | 0,00 | 0,00 | 0,09 | 0,00 | 0,00 | 0,00 | 0,00 | 0,00 | 0,00 | 0,00 | 0,00 | 0,00 | 0,00 | 0,00 | 5,50 |
| 116 | Fay | | 54 | 2,50 | 15,09 | 2,50 | 17,59 | 3 | 3 | 1 | 0,00 | 15,00 | 0,00 | 0,00 | 0,00 | 0,00 | 0,09 | 0,00 | 0,00 | 0,00 | 0,00 | 0,00 | 2,50 | 0,00 | 0,00 | 0,00 | 0,00 | 0,00 | 0,00 |
| 117 | Ruziklao | | 63 | 8,50 | 9,00 | 8,50 | 17,50 | 5 | 4 | 0 | 0,00 | 4,00 | 0,00 | 0,00 | 0,00 | 0,00 | 3,00 | 0,00 | 0,00 | 0,00 | 0,00 | 0,00 | 8,50 | 2,00 | 0,00 | 0,00 | 0,00 | 0,00 | 0,00 |
| 118 | Obana | | 56 | 8,20 | 9,00 | 8,20 | 17,20 | 4 | 4 | 0 | 0,00 | 0,00 | 0,00 | 0,00 | 0,00 | 3,00 | 9,00 | 0,00 | 0,00 | 0,00 | 0,00 | 0,00 | 0,20 | 0,00 | 0,00 | 0,00 | 0,00 | 5,00 | 0,00 |
| 119 | Shomishuu | | 156 | 0,00 | 17,14 | 0,00 | 17,14 | 2 | 1 | 1 | 17,14 | 0,00 | 0,00 | 0,00 | 0,00 | 0,00 | 0,00 | 0,00 | 0,00 | 0,00 | 0,00 | 0,00 | 0,00 | 0,00 | 0,00 | 0,00 | 0,00 | 0,00 | 0,00 |
| 120 | Daishoyama | | NR | 0,00 | 0,00 | 17,00 | 17,00 | 2 | 2 | 0 | 0,00 | 0,00 | 0,00 | 0,00 | 0,00 | 0,00 | 0,00 | 0,00 | 12,00 | 0,00 | 5,00 | 0,00 | 0,00 | 0,00 | 0,00 | 0,00 | 0,00 | 0,00 | 0,00 |
| 121 | Watase | | 220 | 0,00 | 16,74 | 0,00 | 16,74 | 3 | 1 | 0 | 0,00 | 0,00 | 0,00 | 0,00 | 0,00 | 0,00 | 0,00 | 0,00 | 0,00 | 0,00 | 0,00 | 0,00 | 0,00 | 16,74 | 0,00 | 0,00 | 0,00 | 0,00 | 0,00 |
| 122 | Marushiki | | 355 | 0,00 | 16,07 | 0,00 | 16,07 | 2 | 1 | 1 | 0,00 | 0,00 | 0,00 | 0,00 | 0,00 | 0,00 | 16,07 | 0,00 | 0,00 | 0,00 | 0,00 | 0,00 | 0,00 | 0,00 | 0,00 | 0,00 | 0,00 | 0,00 | 0,00 |
| 123 | Abudisake | | 118 | 0,00 | 0,00 | 16,00 | 16,00 | 2 | 2 | 1 | 0,00 | 0,00 | 0,00 | 0,00 | 0,00 | 0,00 | 0,00 | 15,00 | 0,00 | 0,00 | 0,00 | 0,00 | 0,00 | 0,00 | 0,00 | 0,00 | 0,00 | 1,00 | 0,00 |
| 124 | Mimawari | | 241 | 0,00 | 15,82 | 0,00 | 15,82 | 4 | 1 | 0 | 0,00 | 0,00 | 0,00 | 0,00 | 0,00 | 0,00 | 0,00 | 0,00 | 0,00 | 0,00 | 0,00 | 0,00 | 0,00 | 0,00 | 0,00 | 15,82 | 0,00 | 0,00 | 0,00 |
| 125 | iwakoko | | 132 | 0,00 | 15,50 | 0,00 | 15,50 | 2 | 1 | 0 | 15,50 | 0,00 | 0,00 | 0,00 | 0,00 | 0,00 | 0,00 | 0,00 | 0,00 | 0,00 | 0,00 | 0,00 | 0,00 | 0,00 | 0,00 | 0,00 | 0,00 | 0,00 | 0,00 |
| 126 | Tenshin | | 255 | 0,00 | 0,00 | 15,50 | 15,50 | 2 | 2 | 0 | 0,00 | 0,00 | 0,00 | 0,00 | 0,00 | 0,00 | 0,00 | 0,00 | 3,50 | 0,00 | 0,00 | 12,00 | 0,00 | 0,00 | 0,00 | 0,00 | 0,00 | 0,00 | 0,00 |
| 127 | Hakajusakari | | 79 | 6,60 | 6,60 | 8,50 | 15,10 | 4 | 3 | 0 | 0,00 | 0,00 | 0,00 | 0,00 | 0,00 | 0,00 | 0,00 | 0,00 | 0,00 | 0,00 | 0,00 | 0,00 | 0,00 | 0,00 | 5,00 | 0,00 | 6,60 | 0,00 | 3,50 |
| 128 | Kitahayate | | 153 | 0,00 | 15,03 | 0,00 | 15,03 | 5 | 3 | 0 | 0,00 | 0,00 | 0,00 | 0,00 | 0,00 | 0,00 | 6,80 | 0,00 | 0,00 | 0,00 | 0,00 | 0,00 | 0,00 | 4,00 | 0,00 | 4,23 | 0,00 | 0,00 | 0,00 |
| 129 | Arikomitsu | | NR | 0,00 | 15,00 | 0,00 | 15,00 | 1 | 1 | 1 | 0,00 | 0,00 | 0,00 | 0,00 | 0,00 | 0,00 | 0,00 | 0,00 | 0,00 | 0,00 | 0,00 | 0,00 | 0,00 | 0,00 | 0,00 | 0,00 | 15,00 | 0,00 | 0,00 |
| 130 | Baka | | NR | 0,00 | 0,00 | 15,00 | 15,00 | 1 | 1 | 1 | 0,00 | 0,00 | 0,00 | 0,00 | 0,00 | 15,00 | 0,00 | 0,00 | 0,00 | 0,00 | 0,00 | 0,00 | 0,00 | 0,00 | 0,00 | 0,00 | 0,00 | 0,00 | 0,00 |
| 131 | Chanko | | NR | 0,00 | 0,00 | 15,00 | 15,00 | 1 | 1 | 1 | 0,00 | 0,00 | 0,00 | 15,00 | 0,00 | 0,00 | 0,00 | 0,00 | 0,00 | 0,00 | 0,00 | 0,00 | 0,00 | 0,00 | 0,00 | 0,00 | 0,00 | 0,00 | 0,00 |
| 132 | Dai | | NR | 0,00 | 0,00 | 15,00 | 15,00 | 1 | 1 | 1 | 0,00 | 0,00 | 0,00 | 0,00 | 0,00 | 0,00 | 0,00 | 0,00 | 0,00 | 0,00 | 15,00 | 0,00 | 0,00 | 0,00 | 0,00 | 0,00 | 0,00 | 0,00 | 0,00 |
| 133 | Daikatana | | NR | 0,00 | 0,00 | 15,00 | 15,00 | 1 | 1 | 1 | 0,00 | 0,00 | 0,00 | 15,00 | 0,00 | 0,00 | 0,00 | 0,00 | 0,00 | 0,00 | 0,00 | 0,00 | 0,00 | 0,00 | 0,00 | 0,00 | 0,00 | 0,00 | 0,00 |
| 134 | Hermanosho | | 323 | 0,00 | 15,00 | 0,00 | 15,00 | 1 | 1 | 1 | 0,00 | 0,00 | 0,00 | 0,00 | 0,00 | 0,00 | 0,00 | 0,00 | 0,00 | 0,00 | 0,00 | 0,00 | 0,00 | 0,00 | 0,00 | 15,00 | 0,00 | 0,00 | 0,00 |
| 135 | Hidenohana | | NR | 0,00 | 0,00 | 15,00 | 15,00 | 1 | 1 | 1 | 0,00 | 0,00 | 0,00 | 0,00 | 0,00 | 0,00 | 0,00 | 0,00 | 0,00 | 0,00 | 0,00 | 0,00 | 0,00 | 0,00 | 0,00 | 0,00 | 0,00 | 15,00 | 0,00 |
| 136 | Kitanaiumi | | NR | 0,00 | 0,00 | 15,00 | 15,00 | 1 | 1 | 1 | 0,00 | 0,00 | 0,00 | 0,00 | 0,00 | 15,00 | 0,00 | 0,00 | 0,00 | 0,00 | 0,00 | 0,00 | 0,00 | 0,00 | 0,00 | 0,00 | 0,00 | 0,00 | 0,00 |
| 137 | Soujirou5daime | | NR | 0,00 | 0,00 | 15,00 | 15,00 | 1 | 1 | 1 | 0,00 | 0,00 | 0,00 | 0,00 | 0,00 | 0,00 | 0,00 | 0,00 | 15,00 | 0,00 | 0,00 | 0,00 | 0,00 | 0,00 | 0,00 | 0,00 | 0,00 | 0,00 | 0,00 |
| 138 | Takashi | | NR | 0,00 | 15,00 | 0,00 | 15,00 | 1 | 1 | 1 | 0,00 | 0,00 | 15,00 | 0,00 | 0,00 | 0,00 | 0,00 | 0,00 | 0,00 | 0,00 | 0,00 | 0,00 | 0,00 | 0,00 | 0,00 | 0,00 | 0,00 | 0,00 | 0,00 |
| 139 | Tarakozan | | NR | 0,00 | 0,00 | 15,00 | 15,00 | 1 | 1 | 1 | 0,00 | 0,00 | 0,00 | 15,00 | 0,00 | 0,00 | 0,00 | 0,00 | 0,00 | 0,00 | 0,00 | 0,00 | 0,00 | 0,00 | 0,00 | 0,00 | 0,00 | 0,00 | 0,00 |
| 140 | Yuki | | NR | 0,00 | 0,00 | 15,00 | 15,00 | 1 | 1 | 1 | 0,00 | 0,00 | 0,00 | 15,00 | 0,00 | 0,00 | 0,00 | 0,00 | 0,00 | 0,00 | 0,00 | 0,00 | 0,00 | 0,00 | 0,00 | 0,00 | 0,00 | 0,00 | 0,00 |
| 141 | Nagayama | | 345 | 4,00 | 10,00 | 4,00 | 14,00 | 2 | 2 | 0 | 0,00 | 10,00 | 0,00 | 0,00 | 0,00 | 0,00 | 0,00 | 4,00 | 0,00 | 0,00 | 0,00 | 0,00 | 0,00 | 0,00 | 0,00 | 0,00 | 0,00 | 0,00 | 0,00 |
| 142 | Otsu13 | | NR | 0,00 | 0,00 | 14,00 | 14,00 | 2 | 2 | 0 | 0,00 | 0,00 | 0,00 | 0,00 | 0,00 | 0,00 | 0,00 | 0,00 | 10,00 | 0,00 | 0,00 | 4,00 | 0,00 | 0,00 | 0,00 | 0,00 | 0,00 | 0,00 | 0,00 |
| 143 | Hogashi | | 237 | 0,00 | 13,81 | 0,00 | 13,81 | 4 | 2 | 0 | 0,00 | 0,00 | 0,00 | 0,00 | 0,00 | 0,00 | 12,00 | 0,00 | 0,00 | 0,00 | 0,00 | 0,00 | 0,00 | 1,81 | 0,00 | 0,00 | 0,00 | 0,00 | 0,00 |
| 144 | NAHnatsINNIT | | NR | 0,00 | 0,00 | 13,50 | 13,50 | 2 | 1 | 0 | 0,00 | 0,00 | 0,00 | 13,50 | 0,00 | 0,00 | 0,00 | 0,00 | 0,00 | 0,00 | 0,00 | 0,00 | 0,00 | 0,00 | 0,00 | 0,00 | 0,00 | 0,00 | 0,00 |
| 145 | Yaochoyama | | 298 | 0,00 | 0,00 | 13,50 | 13,50 | 3 | 1 | 0 | 0,00 | 0,00 | 0,00 | 0,00 | 0,00 | 0,00 | 0,00 | 0,00 | 0,00 | 0,00 | 0,00 | 0,00 | 0,00 | 0,00 | 0,00 | 0,00 | 0,00 | 0,00 | 13,50 |
| 146 | Bokusa | | NR | 0,00 | 0,00 | 13,00 | 13,00 | 2 | 1 | 0 | 0,00 | 0,00 | 0,00 | 0,00 | 0,00 | 0,00 | 0,00 | 0,00 | 0,00 | 0,00 | 13,00 | 0,00 | 0,00 | 0,00 | 0,00 | 0,00 | 0,00 | 0,00 | 0,00 |
| 147 | Fuseigou | | NR | 6,00 | 7,00 | 6,00 | 13,00 | 2 | 2 | 0 | 0,00 | 0,00 | 7,00 | 0,00 | 0,00 | 0,00 | 0,00 | 0,00 | 0,00 | 0,00 | 0,00 | 6,00 | 0,00 | 0,00 | 0,00 | 0,00 | 0,00 | 0,00 | 0,00 |
| 148 | Damimonay | | 267 | 0,00 | 12,99 | 0,00 | 12,99 | 6 | 4 | 0 | 2,00 | 0,60 | 0,00 | 0,00 | 0,00 | 0,00 | 0,09 | 0,00 | 0,00 | 0,00 | 0,00 | 0,00 | 0,00 | 0,00 | 0,00 | 0,00 | 10,30 | 0,00 | 0,00 |
| 149 | Tsuyoikaze | | 197 | 0,00 | 12,50 | 0,00 | 12,50 | 3 | 1 | 0 | 0,00 | 0,00 | 0,00 | 0,00 | 0,00 | 0,00 | 0,00 | 0,00 | 0,00 | 0,00 | 0,00 | 0,00 | 0,00 | 0,00 | 0,00 | 12,50 | 0,00 | 0,00 | 0,00 |
| 150 | Yokotanoharry | | 120 | 6,00 | 6,25 | 6,00 | 12,25 | 2 | 2 | 0 | 0,00 | 0,00 | 0,00 | 0,00 | 0,00 | 0,00 | 0,00 | 0,00 | 0,00 | 0,00 | 0,00 | 0,00 | 0,00 | 0,00 | 0,00 | 0,00 | 6,25 | 0,00 | 6,00 |
| 151 | Fukurou | | 62 | 5,24 | 5,24 | 7,00 | 12,24 | 3 | 2 | 0 | 0,00 | 5,24 | 0,00 | 0,00 | 0,00 | 0,00 | 0,00 | 0,00 | 0,00 | 0,00 | 0,00 | 0,00 | 7,00 | 0,00 | 0,00 | 0,00 | 0,00 | 0,00 | 0,00 |
| 152 | Kachitakai | | 72 | 5,20 | 6,85 | 5,20 | 12,05 | 3 | 3 | 0 | 0,00 | 0,60 | 0,00 | 0,00 | 0,00 | 0,00 | 6,25 | 0,00 | 0,00 | 0,00 | 0,00 | 0,00 | 5,20 | 0,00 | 0,00 | 0,00 | 0,00 | 0,00 | 0,00 |
| 153 | Nachabo | | 295 | 0,00 | 0,00 | 12,00 | 12,00 | 1 | 1 | 0 | 0,00 | 0,00 | 0,00 | 0,00 | 0,00 | 0,00 | 0,00 | 0,00 | 0,00 | 0,00 | 0,00 | 12,00 | 0,00 | 0,00 | 0,00 | 0,00 | 0,00 | 0,00 | 0,00 |
| 154 | Takasima | | 303 | 0,00 | 12,00 | 0,00 | 12,00 | 3 | 1 | 0 | 0,00 | 0,00 | 12,00 | 0,00 | 0,00 | 0,00 | 0,00 | 0,00 | 0,00 | 0,00 | 0,00 | 0,00 | 0,00 | 0,00 | 0,00 | 0,00 | 0,00 | 0,00 | 0,00 |
| 155 | Akishiki | | NR | 0,00 | 12,00 | 0,00 | 12,00 | 1 | 1 | 0 | 0,00 | 12,00 | 0,00 | 0,00 | 0,00 | 0,00 | 0,00 | 0,00 | 0,00 | 0,00 | 0,00 | 0,00 | 0,00 | 0,00 | 0,00 | 0,00 | 0,00 | 0,00 | 0,00 |
| 156 | Bishonohana | | NR | 0,00 | 0,00 | 12,00 | 12,00 | 1 | 1 | 0 | 0,00 | 0,00 | 0,00 | 12,00 | 0,00 | 0,00 | 0,00 | 0,00 | 0,00 | 0,00 | 0,00 | 0,00 | 0,00 | 0,00 | 0,00 | 0,00 | 0,00 | 0,00 | 0,00 |
| 157 | Kitaguni | | 145 | 0,00 | 0,00 | 12,00 | 12,00 | 1 | 1 | 0 | 0,00 | 0,00 | 0,00 | 0,00 | 0,00 | 0,00 | 0,00 | 0,00 | 0,00 | 0,00 | 12,00 | 0,00 | 0,00 | 0,00 | 0,00 | 0,00 | 0,00 | 0,00 | 0,00 |
| 158 | KotoRosco | | NR | 0,00 | 0,00 | 12,00 | 12,00 | 1 | 1 | 0 | 0,00 | 0,00 | 0,00 | 12,00 | 0,00 | 0,00 | 0,00 | 0,00 | 0,00 | 0,00 | 0,00 | 0,00 | 0,00 | 0,00 | 0,00 | 0,00 | 0,00 | 0,00 | 0,00 |
| 159 | Maguroyama | | 52 | 0,00 | 0,00 | 12,00 | 12,00 | 1 | 1 | 0 | 0,00 | 0,00 | 0,00 | 0,00 | 0,00 | 0,00 | 0,00 | 0,00 | 0,00 | 0,00 | 0,00 | 0,00 | 0,00 | 0,00 | 0,00 | 0,00 | 0,00 | 12,00 | 0,00 |
| 160 | Matitsuomi | | 121 | 0,00 | 12,00 | 0,00 | 12,00 | 1 | 1 | 0 | 0,00 | 0,00 | 12,00 | 0,00 | 0,00 | 0,00 | 0,00 | 0,00 | 0,00 | 0,00 | 0,00 | 0,00 | 0,00 | 0,00 | 0,00 | 0,00 | 0,00 | 0,00 | 0,00 |
| 161 | Pedinishiki | | 269 | 0,00 | 12,00 | 0,00 | 12,00 | 1 | 1 | 0 | 0,00 | 0,00 | 12,00 | 0,00 | 0,00 | 0,00 | 0,00 | 0,00 | 0,00 | 0,00 | 0,00 | 0,00 | 0,00 | 0,00 | 0,00 | 0,00 | 0,00 | 0,00 | 0,00 |
| 162 | Raishu | | 184 | 0,00 | 12,00 | 0,00 | 12,00 | 1 | 1 | 0 | 0,00 | 0,00 | 12,00 | 0,00 | 0,00 | 0,00 | 0,00 | 0,00 | 0,00 | 0,00 | 0,00 | 0,00 | 0,00 | 0,00 | 0,00 | 0,00 | 0,00 | 0,00 | 0,00 |
| 163 | Sakana | | NR | 2,00 | 10,00 | 2,00 | 12,00 | 2 | 2 | 0 | 0,00 | 0,00 | 10,00 | 0,00 | 0,00 | 0,00 | 0,00 | 0,00 | 0,00 | 0,00 | 0,00 | 2,00 | 0,00 | 0,00 | 0,00 | 0,00 | 0,00 | 0,00 | 0,00 |
| 164 | Tomoyan | | NR | 0,00 | 0,00 | 12,00 | 12,00 | 1 | 1 | 0 | 0,00 | 0,00 | 0,00 | 0,00 | 0,00 | 0,00 | 0,00 | 0,00 | 12,00 | 0,00 | 0,00 | 0,00 | 0,00 | 0,00 | 0,00 | 0,00 | 0,00 | 0,00 | 0,00 |
| 165 | Tsotooshu | | NR | 0,00 | 0,00 | 12,00 | 12,00 | 1 | 1 | 0 | 0,00 | 0,00 | 0,00 | 12,00 | 0,00 | 0,00 | 0,00 | 0,00 | 0,00 | 0,00 | 0,00 | 0,00 | 0,00 | 0,00 | 0,00 | 0,00 | 0,00 | 0,00 | 0,00 |
| 166 | Mischashimaru | | 117 | 0,00 | 11,34 | 0,00 | 11,34 | 4 | 2 | 0 | 0,00 | 11,00 | 0,00 | 0,00 | 0,00 | 0,00 | 0,34 | 0,00 | 0,00 | 0,00 | 0,00 | 0,00 | 0,00 | 0,00 | 0,00 | 0,00 | 0,00 | 0,00 | 0,00 |
| 167 | Hashi | | 339 | 0,00 | 0,00 | 11,00 | 11,00 | 2 | 1 | 0 | 0,00 | 0,00 | 0,00 | 0,00 | 0,00 | 0,00 | 0,00 | 0,00 | 0,00 | 0,00 | 11,00 | 0,00 | 0,00 | 0,00 | 0,00 | 0,00 | 0,00 | 0,00 | 0,00 |
| 168 | Kasamatsuri | | 324 | 0,00 | 0,00 | 11,00 | 11,00 | 1 | 1 | 0 | 0,00 | 0,00 | 0,00 | 0,00 | 11,00 | 0,00 | 0,00 | 0,00 | 0,00 | 0,00 | 0,00 | 0,00 | 0,00 | 0,00 | 0,00 | 0,00 | 0,00 | 0,00 | 0,00 |
| 169 | Keeparu | | NR | 0,00 | 0,00 | 11,00 | 11,00 | 1 | 1 | 0 | 0,00 | 0,00 | 0,00 | 11,00 | 0,00 | 0,00 | 0,00 | 0,00 | 0,00 | 0,00 | 0,00 | 0,00 | 0,00 | 0,00 | 0,00 | 0,00 | 0,00 | 0,00 | 0,00 |
| 170 | Kotoniko | | NR | 0,00 | 0,00 | 11,00 | 11,00 | 1 | 1 | 0 | 0,00 | 0,00 | 0,00 | 0,00 | 0,00 | 0,00 | 0,00 | 0,00 | 0,00 | 0,00 | 0,00 | 0,00 | 0,00 | 0,00 | 0,00 | 0,00 | 0,00 | 0,00 | 11,00 |
| 171 | Mojojojo | | NR | 0,00 | 0,00 | 11,00 | 11,00 | 1 | 1 | 0 | 0,00 | 0,00 | 0,00 | 11,00 | 0,00 | 0,00 | 0,00 | 0,00 | 0,00 | 0,00 | 0,00 | 0,00 | 0,00 | 0,00 | 0,00 | 0,00 | 0,00 | 0,00 | 0,00 |
| 172 | Naskocska | | NR | 0,00 | 0,00 | 11,00 | 11,00 | 1 | 1 | 0 | 0,00 | 0,00 | 0,00 | 0,00 | 0,00 | 0,00 | 0,00 | 0,00 | 0,00 | 0,00 | 0,00 | 0,00 | 0,00 | 0,00 | 0,00 | 0,00 | 0,00 | 0,00 | 11,00 |
| 173 | Rubensan | | 309 | 0,00 | 10,63 | 0,00 | 10,63 | 3 | 1 | 0 | 10,63 | 0,00 | 0,00 | 0,00 | 0,00 | 0,00 | 0,00 | 0,00 | 0,00 | 0,00 | 0,00 | 0,00 | 0,00 | 0,00 | 0,00 | 0,00 | 0,00 | 0,00 | 0,00 |
| 174 | Saruwatari | | 99 | 1,07 | 1,07 | 9,50 | 10,57 | 4 | 4 | 0 | 0,00 | 0,00 | 0,00 | 0,00 | 0,00 | 1,00 | 1,07 | 4,50 | 0,00 | 0,00 | 0,00 | 4,00 | 0,00 | 0,00 | 0,00 | 0,00 | 0,00 | 0,00 | 0,00 |
| 175 | Sumokozou | | 165 | 0,00 | 0,00 | 10,33 | 10,33 | 2 | 1 | 0 | 0,00 | 0,00 | 0,00 | 0,00 | 0,00 | 0,00 | 0,00 | 0,00 | 10,33 | 0,00 | 0,00 | 0,00 | 0,00 | 0,00 | 0,00 | 0,00 | 0,00 | 0,00 | 0,00 |
| 176 | Sabhana | | NR | 0,00 | 10,00 | 0,00 | 10,00 | 1 | 1 | 0 | 0,00 | 10,00 | 0,00 | 0,00 | 0,00 | 0,00 | 0,00 | 0,00 | 0,00 | 0,00 | 0,00 | 0,00 | 0,00 | 0,00 | 0,00 | 0,00 | 0,00 | 0,00 | 0,00 |
| 177 | SumOwen | | NR | 0,00 | 0,00 | 10,00 | 10,00 | 1 | 1 | 0 | 0,00 | 0,00 | 0,00 | 10,00 | 0,00 | 0,00 | 0,00 | 0,00 | 0,00 | 0,00 | 0,00 | 0,00 | 0,00 | 0,00 | 0,00 | 0,00 | 0,00 | 0,00 | 0,00 |
| 178 | Fujitubo | | 260 | 0,00 | 0,00 | 10,00 | 10,00 | 1 | 1 | 0 | 0,00 | 0,00 | 0,00 | 0,00 | 0,00 | 0,00 | 0,00 | 0,00 | 0,00 | 0,00 | 0,00 | 10,00 | 0,00 | 0,00 | 0,00 | 0,00 | 0,00 | 0,00 | 0,00 |
| 179 | Rinshukai | | 80 | 0,00 | 0,00 | 10,00 | 10,00 | 1 | 1 | 0 | 0,00 | 0,00 | 0,00 | 0,00 | 10,00 | 0,00 | 0,00 | 0,00 | 0,00 | 0,00 | 0,00 | 0,00 | 0,00 | 0,00 | 0,00 | 0,00 | 0,00 | 0,00 | 0,00 |
| 180 | Toschima | | 251 | 0,00 | 0,00 | 10,00 | 10,00 | 1 | 1 | 0 | 0,00 | 0,00 | 0,00 | 0,00 | 0,00 | 0,00 | 0,00 | 0,00 | 0,00 | 0,00 | 0,00 | 0,00 | 0,00 | 0,00 | 0,00 | 0,00 | 0,00 | 10,00 | 0,00 |
| 181 | Hidariashiyama | | 231 | 2,00 | 7,93 | 2,00 | 9,93 | 4 | 3 | 0 | 0,00 | 1,24 | 0,00 | 0,00 | 0,00 | 0,00 | 6,69 | 0,00 | 0,00 | 0,00 | 0,00 | 2,00 | 0,00 | 0,00 | 0,00 | 0,00 | 0,00 | 0,00 | 0,00 |
| 182 | nomadwolf | | NR | 0,00 | 0,00 | 9,43 | 9,43 | 2 | 2 | 0 | 0,00 | 0,00 | 0,00 | 0,00 | 0,00 | 0,00 | 0,00 | 0,00 | 0,00 | 0,00 | 0,00 | 9,00 | 0,43 | 0,00 | 0,00 | 0,00 | 0,00 | 0,00 | 0,00 |
| 183 | Antmanohana | | NR | 0,00 | 9,00 | 0,00 | 9,00 | 1 | 1 | 0 | 0,00 | 0,00 | 9,00 | 0,00 | 0,00 | 0,00 | 0,00 | 0,00 | 0,00 | 0,00 | 0,00 | 0,00 | 0,00 | 0,00 | 0,00 | 0,00 | 0,00 | 0,00 | 0,00 |
| 184 | Mayumi | | NR | 0,00 | 9,00 | 0,00 | 9,00 | 1 | 1 | 0 | 0,00 | 0,00 | 9,00 | 0,00 | 0,00 | 0,00 | 0,00 | 0,00 | 0,00 | 0,00 | 0,00 | 0,00 | 0,00 | 0,00 | 0,00 | 0,00 | 0,00 | 0,00 | 0,00 |
| 185 | Guts_ogasawara | | NR | 0,00 | 0,00 | 9,00 | 9,00 | 2 | 2 | 0 | 0,00 | 0,00 | 0,00 | 0,00 | 0,00 | 0,00 | 0,00 | 0,00 | 6,00 | 0,00 | 0,00 | 3,00 | 0,00 | 0,00 | 0,00 | 0,00 | 0,00 | 0,00 | 0,00 |
| 186 | Kozaru | | 340 | 0,00 | 9,00 | 0,00 | 9,00 | 1 | 1 | 0 | 0,00 | 9,00 | 0,00 | 0,00 | 0,00 | 0,00 | 0,00 | 0,00 | 0,00 | 0,00 | 0,00 | 0,00 | 0,00 | 0,00 | 0,00 | 0,00 | 0,00 | 0,00 | 0,00 |
| 187 | Irakliama | | NR | 0,00 | 0,00 | 8,50 | 8,50 | 2 | 1 | 0 | 0,00 | 0,00 | 0,00 | 0,00 | 0,00 | 0,00 | 0,00 | 8,50 | 0,00 | 0,00 | 0,00 | 0,00 | 0,00 | 0,00 | 0,00 | 0,00 | 0,00 | 0,00 | 0,00 |
| 188 | Geri | | NR | 0,00 | 0,00 | 8,33 | 8,33 | 2 | 2 | 0 | 0,00 | 0,00 | 0,00 | 8,00 | 0,00 | 0,00 | 0,00 | 0,00 | 0,00 | 0,00 | 0,00 | 0,00 | 0,00 | 0,00 | 0,00 | 0,00 | 0,00 | 0,00 | 0,33 |
| 189 | Marimo | | 98 | 3,25 | 3,25 | 5,00 | 8,25 | 4 | 4 | 0 | 0,00 | 3,00 | 0,00 | 0,00 | 0,00 | 0,00 | 0,25 | 0,00 | 0,00 | 0,00 | 4,00 | 0,00 | 0,00 | 0,00 | 0,00 | 0,00 | 0,00 | 1,00 | 0,00 |
| 190 | Dekesse | | NR | 0,00 | 0,00 | 8,20 | 8,20 | 1 | 1 | 0 | 0,00 | 0,00 | 0,00 | 8,20 | 0,00 | 0,00 | 0,00 | 0,00 | 0,00 | 0,00 | 0,00 | 0,00 | 0,00 | 0,00 | 0,00 | 0,00 | 0,00 | 0,00 | 0,00 |
| 191 | Fabog | | NR | 0,00 | 0,00 | 8,20 | 8,20 | 1 | 1 | 0 | 0,00 | 0,00 | 0,00 | 8,20 | 0,00 | 0,00 | 0,00 | 0,00 | 0,00 | 0,00 | 0,00 | 0,00 | 0,00 | 0,00 | 0,00 | 0,00 | 0,00 | 0,00 | 0,00 |
| 192 | Hakuryuken | | NR | 0,00 | 0,00 | 8,20 | 8,20 | 1 | 1 | 0 | 0,00 | 0,00 | 0,00 | 8,20 | 0,00 | 0,00 | 0,00 | 0,00 | 0,00 | 0,00 | 0,00 | 0,00 | 0,00 | 0,00 | 0,00 | 0,00 | 0,00 | 0,00 | 0,00 |
| 193 | Minamijuuji | | NR | 0,00 | 0,00 | 8,20 | 8,20 | 1 | 1 | 0 | 0,00 | 0,00 | 0,00 | 8,20 | 0,00 | 0,00 | 0,00 | 0,00 | 0,00 | 0,00 | 0,00 | 0,00 | 0,00 | 0,00 | 0,00 | 0,00 | 0,00 | 0,00 | 0,00 |
| 194 | Imumaru | | 131 | 2,64 | 2,64 | 5,50 | 8,14 | 3 | 2 | 0 | 0,00 | 2,64 | 0,00 | 0,00 | 5,50 | 0,00 | 0,00 | 0,00 | 0,00 | 0,00 | 0,00 | 0,00 | 0,00 | 0,00 | 0,00 | 0,00 | 0,00 | 0,00 | 0,00 |
| 195 | Aoisora | | NR | 0,00 | 0,00 | 8,00 | 8,00 | 1 | 1 | 0 | 0,00 | 0,00 | 0,00 | 0,00 | 0,00 | 0,00 | 0,00 | 0,00 | 8,00 | 0,00 | 0,00 | 0,00 | 0,00 | 0,00 | 0,00 | 0,00 | 0,00 | 0,00 | 0,00 |
| 196 | Asshet De Rosa | | NR | 0,00 | 0,00 | 8,00 | 8,00 | 2 | 2 | 0 | 0,00 | 0,00 | 0,00 | 0,00 | 0,00 | 0,00 | 0,00 | 0,00 | 0,00 | 0,00 | 2,00 | 6,00 | 0,00 | 0,00 | 0,00 | 0,00 | 0,00 | 0,00 | 0,00 |
| 197 | Bubaka | | NR | 0,00 | 8,00 | 0,00 | 8,00 | 1 | 1 | 0 | 0,00 | 0,00 | 0,00 | 0,00 | 0,00 | 0,00 | 8,00 | 0,00 | 0,00 | 0,00 | 0,00 | 0,00 | 0,00 | 0,00 | 0,00 | 0,00 | 0,00 | 0,00 | 0,00 |
| 198 | Crall | | 124 | 0,00 | 0,00 | 8,00 | 8,00 | 1 | 1 | 0 | 0,00 | 0,00 | 0,00 | 8,00 | 0,00 | 0,00 | 0,00 | 0,00 | 0,00 | 0,00 | 0,00 | 0,00 | 0,00 | 0,00 | 0,00 | 0,00 | 0,00 | 0,00 | 0,00 |
| 199 | GingerGaijin | | NR | 0,00 | 0,00 | 8,00 | 8,00 | 1 | 1 | 0 | 0,00 | 0,00 | 0,00 | 8,00 | 0,00 | 0,00 | 0,00 | 0,00 | 0,00 | 0,00 | 0,00 | 0,00 | 0,00 | 0,00 | 0,00 | 0,00 | 0,00 | 0,00 | 0,00 |
| 200 | Kaiseroki | | NR | 0,00 | 0,00 | 8,00 | 8,00 | 1 | 1 | 0 | 0,00 | 0,00 | 0,00 | 0,00 | 0,00 | 8,00 | 0,00 | 0,00 | 0,00 | 0,00 | 0,00 | 0,00 | 0,00 | 0,00 | 0,00 | 0,00 | 0,00 | 0,00 | 0,00 |
| 201 | Kajiyama | | NR | 0,00 | 0,00 | 8,00 | 8,00 | 1 | 1 | 0 | 0,00 | 0,00 | 0,00 | 8,00 | 0,00 | 0,00 | 0,00 | 0,00 | 0,00 | 0,00 | 0,00 | 0,00 | 0,00 | 0,00 | 0,00 | 0,00 | 0,00 | 0,00 | 0,00 |
| 202 | Kurisu | | 97 | 0,00 | 0,00 | 8,00 | 8,00 | 1 | 1 | 0 | 0,00 | 0,00 | 0,00 | 0,00 | 0,00 | 0,00 | 0,00 | 0,00 | 0,00 | 0,00 | 0,00 | 0,00 | 0,00 | 0,00 | 0,00 | 0,00 | 0,00 | 8,00 | 0,00 |
| 203 | Marihime | | 358 | 0,00 | 0,00 | 8,00 | 8,00 | 1 | 1 | 0 | 0,00 | 0,00 | 0,00 | 0,00 | 0,00 | 0,00 | 0,00 | 0,00 | 8,00 | 0,00 | 0,00 | 0,00 | 0,00 | 0,00 | 0,00 | 0,00 | 0,00 | 0,00 | 0,00 |
| 204 | Masawo | | 318 | 0,00 | 0,00 | 8,00 | 8,00 | 1 | 1 | 0 | 0,00 | 0,00 | 0,00 | 0,00 | 0,00 | 0,00 | 0,00 | 0,00 | 0,00 | 0,00 | 0,00 | 8,00 | 0,00 | 0,00 | 0,00 | 0,00 | 0,00 | 0,00 | 0,00 |
| 205 | Noi | | NR | 0,00 | 0,00 | 8,00 | 8,00 | 1 | 1 | 0 | 0,00 | 0,00 | 0,00 | 0,00 | 0,00 | 0,00 | 0,00 | 0,00 | 8,00 | 0,00 | 0,00 | 0,00 | 0,00 | 0,00 | 0,00 | 0,00 | 0,00 | 0,00 | 0,00 |
| 206 | Rikishimiezi | | 271 | 0,00 | 8,00 | 0,00 | 8,00 | 1 | 1 | 0 | 0,00 | 0,00 | 8,00 | 0,00 | 0,00 | 0,00 | 0,00 | 0,00 | 0,00 | 0,00 | 0,00 | 0,00 | 0,00 | 0,00 | 0,00 | 0,00 | 0,00 | 0,00 | 0,00 |
| 207 | sirann | | NR | 0,00 | 0,00 | 8,00 | 8,00 | 1 | 1 | 0 | 0,00 | 0,00 | 0,00 | 0,00 | 0,00 | 0,00 | 0,00 | 0,00 | 0,00 | 0,00 | 0,00 | 8,00 | 0,00 | 0,00 | 0,00 | 0,00 | 0,00 | 0,00 | 0,00 |
| 208 | Utinonami | | 77 | 0,00 | 0,00 | 8,00 | 8,00 | 1 | 1 | 0 | 0,00 | 0,00 | 0,00 | 0,00 | 0,00 | 0,00 | 0,00 | 0,00 | 0,00 | 0,00 | 8,00 | 0,00 | 0,00 | 0,00 | 0,00 | 0,00 | 0,00 | 0,00 | 0,00 |
| 209 | Getayukata | | 367 | 0,00 | 7,82 | 0,00 | 7,82 | 3 | 3 | 0 | 0,33 | 1,24 | 0,00 | 0,00 | 0,00 | 0,00 | 6,25 | 0,00 | 0,00 | 0,00 | 0,00 | 0,00 | 0,00 | 0,00 | 0,00 | 0,00 | 0,00 | 0,00 | 0,00 |
| 210 | Umigame | | NR | 0,00 | 7,25 | 0,00 | 7,25 | 1 | 1 | 0 | 0,00 | 0,00 | 0,00 | 0,00 | 0,00 | 0,00 | 0,00 | 0,00 | 0,00 | 0,00 | 0,00 | 0,00 | 0,00 | 0,00 | 0,00 | 0,00 | 7,25 | 0,00 | 0,00 |
| 211 | Usuhbi | | 334 | 0,00 | 7,25 | 0,00 | 7,25 | 1 | 1 | 0 | 0,00 | 0,00 | 0,00 | 0,00 | 0,00 | 0,00 | 0,00 | 0,00 | 0,00 | 0,00 | 0,00 | 0,00 | 0,00 | 0,00 | 0,00 | 0,00 | 7,25 | 0,00 | 0,00 |
| 212 | Hakaso | | 58 | 0,00 | 7,07 | 0,00 | 7,07 | 2 | 1 | 0 | 0,00 | 0,00 | 0,00 | 0,00 | 0,00 | 0,00 | 7,07 | 0,00 | 0,00 | 0,00 | 0,00 | 0,00 | 0,00 | 0,00 | 0,00 | 0,00 | 0,00 | 0,00 | 0,00 |
| 213 | Akisame | | NR | 0,00 | 0,00 | 7,00 | 7,00 | 1 | 1 | 0 | 0,00 | 0,00 | 0,00 | 0,00 | 0,00 | 0,00 | 0,00 | 0,00 | 0,00 | 7,00 | 0,00 | 0,00 | 0,00 | 0,00 | 0,00 | 0,00 | 0,00 | 0,00 | 0,00 |
| 214 | Eizi11 | | NR | 0,00 | 0,00 | 7,00 | 7,00 | 1 | 1 | 0 | 0,00 | 0,00 | 0,00 | 0,00 | 0,00 | 0,00 | 0,00 | 0,00 | 7,00 | 0,00 | 0,00 | 0,00 | 0,00 | 0,00 | 0,00 | 0,00 | 0,00 | 0,00 | 0,00 |
| 215 | Max | | 103 | 0,00 | 0,00 | 7,00 | 7,00 | 2 | 1 | 0 | 0,00 | 0,00 | 0,00 | 0,00 | 0,00 | 0,00 | 0,00 | 0,00 | 0,00 | 0,00 | 7,00 | 0,00 | 0,00 | 0,00 | 0,00 | 0,00 | 0,00 | 0,00 | 0,00 |
| 216 | Sarukason | | NR | 0,00 | 0,00 | 7,00 | 7,00 | 1 | 1 | 0 | 0,00 | 0,00 | 0,00 | 0,00 | 0,00 | 0,00 | 0,00 | 0,00 | 0,00 | 0,00 | 0,00 | 0,00 | 7,00 | 0,00 | 0,00 | 0,00 | 0,00 | 0,00 | 0,00 |
| 217 | Tachikawa | | NR | 0,00 | 0,00 | 7,00 | 7,00 | 2 | 1 | 0 | 0,00 | 0,00 | 0,00 | 0,00 | 0,00 | 7,00 | 0,00 | 0,00 | 0,00 | 0,00 | 0,00 | 0,00 | 0,00 | 0,00 | 0,00 | 0,00 | 0,00 | 0,00 | 0,00 |
| 218 | Yurkozan | | 191 | 0,00 | 6,60 | 0,00 | 6,60 | 1 | 1 | 0 | 0,00 | 0,00 | 0,00 | 0,00 | 0,00 | 0,00 | 0,00 | 0,00 | 0,00 | 0,00 | 0,00 | 0,00 | 0,00 | 0,00 | 0,00 | 0,00 | 6,60 | 0,00 | 0,00 |
| 219 | Danishido | | NR | 0,00 | 0,00 | 6,33 | 6,33 | 1 | 1 | 0 | 0,00 | 0,00 | 0,00 | 6,33 | 0,00 | 0,00 | 0,00 | 0,00 | 0,00 | 0,00 | 0,00 | 0,00 | 0,00 | 0,00 | 0,00 | 0,00 | 0,00 | 0,00 | 0,00 |
| 220 | Loner | | NR | 0,00 | 0,00 | 6,33 | 6,33 | 1 | 1 | 0 | 0,00 | 0,00 | 0,00 | 0,00 | 0,00 | 0,00 | 0,00 | 0,00 | 6,33 | 0,00 | 0,00 | 0,00 | 0,00 | 0,00 | 0,00 | 0,00 | 0,00 | 0,00 | 0,00 |
| 221 | Shinkansen | | 109 | 0,00 | 6,33 | 0,00 | 6,33 | 1 | 1 | 0 | 0,00 | 0,00 | 6,33 | 0,00 | 0,00 | 0,00 | 0,00 | 0,00 | 0,00 | 0,00 | 0,00 | 0,00 | 0,00 | 0,00 | 0,00 | 0,00 | 0,00 | 0,00 | 0,00 |
| 222 | Suitenguuyama | | NR | 0,00 | 0,00 | 6,33 | 6,33 | 1 | 1 | 0 | 0,00 | 0,00 | 0,00 | 0,00 | 0,00 | 0,00 | 0,00 | 0,00 | 6,33 | 0,00 | 0,00 | 0,00 | 0,00 | 0,00 | 0,00 | 0,00 | 0,00 | 0,00 | 0,00 |
| 223 | TakaKanada | | NR | 0,00 | 0,00 | 6,33 | 6,33 | 1 | 1 | 0 | 0,00 | 0,00 | 0,00 | 6,33 | 0,00 | 0,00 | 0,00 | 0,00 | 0,00 | 0,00 | 0,00 | 0,00 | 0,00 | 0,00 | 0,00 | 0,00 | 0,00 | 0,00 | 0,00 |
| 224 | Aderechelseamaru | | 100 | 0,00 | 6,25 | 0,00 | 6,25 | 1 | 1 | 0 | 0,00 | 0,00 | 0,00 | 0,00 | 0,00 | 0,00 | 6,25 | 0,00 | 0,00 | 0,00 | 0,00 | 0,00 | 0,00 | 0,00 | 0,00 | 0,00 | 0,00 | 0,00 | 0,00 |
| 225 | Yassier | | NR | 0,00 | 6,20 | 0,00 | 6,20 | 2 | 1 | 0 | 0,00 | 0,00 | 6,20 | 0,00 | 0,00 | 0,00 | 0,00 | 0,00 | 0,00 | 0,00 | 0,00 | 0,00 | 0,00 | 0,00 | 0,00 | 0,00 | 0,00 | 0,00 | 0,00 |
| 226 | Katayanoga | | NR | 0,00 | 0,00 | 6,00 | 6,00 | 1 | 1 | 0 | 0,00 | 0,00 | 0,00 | 0,00 | 6,00 | 0,00 | 0,00 | 0,00 | 0,00 | 0,00 | 0,00 | 0,00 | 0,00 | 0,00 | 0,00 | 0,00 | 0,00 | 0,00 | 0,00 |
| 227 | krymitor | | NR | 0,00 | 0,00 | 6,00 | 6,00 | 1 | 1 | 0 | 0,00 | 0,00 | 0,00 | 6,00 | 0,00 | 0,00 | 0,00 | 0,00 | 0,00 | 0,00 | 0,00 | 0,00 | 0,00 | 0,00 | 0,00 | 0,00 | 0,00 | 0,00 | 0,00 |
| 228 | Yamanoyama | | 119 | 0,00 | 0,00 | 6,00 | 6,00 | 1 | 1 | 0 | 0,00 | 0,00 | 0,00 | 0,00 | 0,00 | 0,00 | 0,00 | 0,00 | 0,00 | 0,00 | 6,00 | 0,00 | 0,00 | 0,00 | 0,00 | 0,00 | 0,00 | 0,00 | 0,00 |
| 229 | Hagiwara | | 129 | 0,00 | 0,00 | 6,00 | 6,00 | 1 | 1 | 0 | 0,00 | 0,00 | 0,00 | 0,00 | 0,00 | 0,00 | 0,00 | 0,00 | 0,00 | 0,00 | 0,00 | 6,00 | 0,00 | 0,00 | 0,00 | 0,00 | 0,00 | 0,00 | 0,00 |
| 230 | Hokanobenzo | | NR | 0,00 | 0,00 | 6,00 | 6,00 | 1 | 1 | 0 | 0,00 | 0,00 | 0,00 | 0,00 | 0,00 | 0,00 | 0,00 | 0,00 | 0,00 | 0,00 | 0,00 | 0,00 | 0,00 | 0,00 | 0,00 | 0,00 | 0,00 | 6,00 | 0,00 |
| 231 | Kotobaru | | NR | 0,00 | 0,00 | 6,00 | 6,00 | 1 | 1 | 0 | 0,00 | 0,00 | 0,00 | 0,00 | 6,00 | 0,00 | 0,00 | 0,00 | 0,00 | 0,00 | 0,00 | 0,00 | 0,00 | 0,00 | 0,00 | 0,00 | 0,00 | 0,00 | 0,00 |
| 232 | Sanpu | | NR | 0,00 | 0,00 | 6,00 | 6,00 | 1 | 1 | 0 | 0,00 | 0,00 | 0,00 | 0,00 | 0,00 | 0,00 | 0,00 | 0,00 | 6,00 | 0,00 | 0,00 | 0,00 | 0,00 | 0,00 | 0,00 | 0,00 | 0,00 | 0,00 | 0,00 |
| 233 | Seb | | NR | 0,00 | 6,00 | 0,00 | 6,00 | 1 | 1 | 0 | 0,00 | 0,00 | 6,00 | 0,00 | 0,00 | 0,00 | 0,00 | 0,00 | 0,00 | 0,00 | 0,00 | 0,00 | 0,00 | 0,00 | 0,00 | 0,00 | 0,00 | 0,00 | 0,00 |
| 234 | Tamagochan | | NR | 0,00 | 0,00 | 6,00 | 6,00 | 1 | 1 | 0 | 0,00 | 0,00 | 0,00 | 6,00 | 0,00 | 0,00 | 0,00 | 0,00 | 0,00 | 0,00 | 0,00 | 0,00 | 0,00 | 0,00 | 0,00 | 0,00 | 0,00 | 0,00 | 0,00 |
| 235 | Mattjila | | 354 | 0,55 | 0,55 | 5,20 | 5,75 | 2 | 2 | 0 | 0,00 | 0,00 | 0,00 | 0,00 | 0,00 | 0,00 | 0,55 | 0,00 | 0,00 | 0,00 | 0,00 | 0,00 | 5,20 | 0,00 | 0,00 | 0,00 | 0,00 | 0,00 | 0,00 |
| 236 | Kungliazuma | | NR | 0,00 | 0,00 | 5,50 | 5,50 | 1 | 1 | 0 | 0,00 | 0,00 | 0,00 | 0,00 | 5,50 | 0,00 | 0,00 | 0,00 | 0,00 | 0,00 | 0,00 | 0,00 | 0,00 | 0,00 | 0,00 | 0,00 | 0,00 | 0,00 | 0,00 |
| 237 | Kinkaizan | | NR | 0,00 | 5,48 | 0,00 | 5,48 | 3 | 1 | 0 | 0,00 | 0,00 | 0,00 | 0,00 | 0,00 | 0,00 | 0,00 | 0,00 | 0,00 | 0,00 | 0,00 | 0,00 | 0,00 | 0,00 | 0,00 | 5,48 | 0,00 | 0,00 | 0,00 |
| 238 | Nushuzan | | 104 | 0,00 | 5,39 | 0,00 | 5,39 | 2 | 1 | 0 | 0,00 | 0,00 | 0,00 | 0,00 | 0,00 | 0,00 | 0,00 | 0,00 | 0,00 | 0,00 | 0,00 | 0,00 | 0,00 | 0,00 | 0,00 | 5,39 | 0,00 | 0,00 | 0,00 |
| 239 | Hokuromitsu | | 190 | 0,00 | 5,10 | 0,00 | 5,10 | 1 | 1 | 0 | 0,00 | 0,00 | 0,00 | 0,00 | 0,00 | 0,00 | 0,00 | 0,00 | 0,00 | 0,00 | 0,00 | 0,00 | 0,00 | 0,00 | 0,00 | 0,00 | 5,10 | 0,00 | 0,00 |
| 240 | Yotsich | | NR | 0,00 | 5,10 | 0,00 | 5,10 | 1 | 1 | 0 | 0,00 | 0,00 | 0,00 | 0,00 | 0,00 | 0,00 | 0,00 | 0,00 | 0,00 | 0,00 | 0,00 | 0,00 | 0,00 | 0,00 | 0,00 | 0,00 | 5,10 | 0,00 | 0,00 |
| 241 | Dotabata | | NR | 0,00 | 0,00 | 5,00 | 5,00 | 1 | 1 | 0 | 0,00 | 0,00 | 0,00 | 0,00 | 0,00 | 0,00 | 0,00 | 0,00 | 5,00 | 0,00 | 0,00 | 0,00 | 0,00 | 0,00 | 0,00 | 0,00 | 0,00 | 0,00 | 0,00 |
| 242 | Bisuke | | 335 | 0,00 | 0,00 | 5,00 | 5,00 | 1 | 1 | 0 | 0,00 | 0,00 | 0,00 | 0,00 | 0,00 | 0,00 | 0,00 | 0,00 | 0,00 | 0,00 | 5,00 | 0,00 | 0,00 | 0,00 | 0,00 | 0,00 | 0,00 | 0,00 | 0,00 |
| 243 | Blogmama | | NR | 0,00 | 0,00 | 5,00 | 5,00 | 1 | 1 | 0 | 0,00 | 0,00 | 0,00 | 0,00 | 0,00 | 0,00 | 0,00 | 0,00 | 5,00 | 0,00 | 0,00 | 0,00 | 0,00 | 0,00 | 0,00 | 0,00 | 0,00 | 0,00 | 0,00 |
| 244 | Darida | | NR | 0,00 | 0,00 | 5,00 | 5,00 | 1 | 1 | 0 | 0,00 | 0,00 | 0,00 | 5,00 | 0,00 | 0,00 | 0,00 | 0,00 | 0,00 | 0,00 | 0,00 | 0,00 | 0,00 | 0,00 | 0,00 | 0,00 | 0,00 | 0,00 | 0,00 |
| 245 | Hararudo | | NR | 0,00 | 0,00 | 5,00 | 5,00 | 1 | 1 | 0 | 0,00 | 0,00 | 0,00 | 5,00 | 0,00 | 0,00 | 0,00 | 0,00 | 0,00 | 0,00 | 0,00 | 0,00 | 0,00 | 0,00 | 0,00 | 0,00 | 0,00 | 0,00 | 0,00 |
| 246 | Jesinofuji | | 94 | 0,00 | 0,00 | 5,00 | 5,00 | 1 | 1 | 0 | 0,00 | 0,00 | 0,00 | 0,00 | 0,00 | 0,00 | 0,00 | 0,00 | 0,00 | 0,00 | 0,00 | 0,00 | 0,00 | 0,00 | 0,00 | 0,00 | 0,00 | 0,00 | 5,00 |
| 247 | Kakushoyama | | 115 | 0,00 | 0,00 | 5,00 | 5,00 | 1 | 1 | 0 | 0,00 | 0,00 | 0,00 | 0,00 | 0,00 | 5,00 | 0,00 | 0,00 | 0,00 | 0,00 | 0,00 | 0,00 | 0,00 | 0,00 | 0,00 | 0,00 | 0,00 | 0,00 | 0,00 |
| 248 | Kanpei | | NR | 0,00 | 0,00 | 5,00 | 5,00 | 1 | 1 | 0 | 0,00 | 0,00 | 0,00 | 0,00 | 0,00 | 0,00 | 0,00 | 0,00 | 0,00 | 0,00 | 0,00 | 5,00 | 0,00 | 0,00 | 0,00 | 0,00 | 0,00 | 0,00 | 0,00 |
| 249 | MamejianaiyoMamedayo | | NR | 0,00 | 0,00 | 5,00 | 5,00 | 1 | 1 | 0 | 0,00 | 0,00 | 0,00 | 0,00 | 0,00 | 0,00 | 0,00 | 0,00 | 5,00 | 0,00 | 0,00 | 0,00 | 0,00 | 0,00 | 0,00 | 0,00 | 0,00 | 0,00 | 0,00 |
| 250 | Marionoumi | | 37 | 2,00 | 3,00 | 2,00 | 5,00 | 2 | 2 | 0 | 0,00 | 3,00 | 0,00 | 0,00 | 0,00 | 0,00 | 0,00 | 0,00 | 0,00 | 0,00 | 0,00 | 2,00 | 0,00 | 0,00 | 0,00 | 0,00 | 0,00 | 0,00 | 0,00 |
| 251 | Markushimaru | | 162 | 0,00 | 5,00 | 0,00 | 5,00 | 1 | 1 | 0 | 0,00 | 0,00 | 5,00 | 0,00 | 0,00 | 0,00 | 0,00 | 0,00 | 0,00 | 0,00 | 0,00 | 0,00 | 0,00 | 0,00 | 0,00 | 0,00 | 0,00 | 0,00 | 0,00 |
| 252 | Weather | | 361 | 0,00 | 0,00 | 5,00 | 5,00 | 1 | 1 | 0 | 0,00 | 0,00 | 0,00 | 0,00 | 0,00 | 0,00 | 0,00 | 0,00 | 5,00 | 0,00 | 0,00 | 0,00 | 0,00 | 0,00 | 0,00 | 0,00 | 0,00 | 0,00 | 0,00 |
| 253 | Hashira | | 177 | 0,00 | 4,67 | 0,00 | 4,67 | 1 | 1 | 0 | 0,00 | 0,00 | 0,00 | 0,00 | 0,00 | 0,00 | 0,00 | 0,00 | 0,00 | 0,00 | 0,00 | 0,00 | 0,00 | 0,00 | 0,00 | 0,00 | 4,67 | 0,00 | 0,00 |
| 254 | Akezuma | | NR | 0,00 | 0,00 | 4,50 | 4,50 | 1 | 1 | 0 | 0,00 | 0,00 | 0,00 | 0,00 | 4,50 | 0,00 | 0,00 | 0,00 | 0,00 | 0,00 | 0,00 | 0,00 | 0,00 | 0,00 | 0,00 | 0,00 | 0,00 | 0,00 | 0,00 |
| 255 | Gitogito | | NR | 0,00 | 0,00 | 4,50 | 4,50 | 1 | 1 | 0 | 0,00 | 0,00 | 0,00 | 0,00 | 4,50 | 0,00 | 0,00 | 0,00 | 0,00 | 0,00 | 0,00 | 0,00 | 0,00 | 0,00 | 0,00 | 0,00 | 0,00 | 0,00 | 0,00 |
| 256 | Heisikuomi | | NR | 0,00 | 4,50 | 0,00 | 4,50 | 1 | 1 | 0 | 0,00 | 0,00 | 4,50 | 0,00 | 0,00 | 0,00 | 0,00 | 0,00 | 0,00 | 0,00 | 0,00 | 0,00 | 0,00 | 0,00 | 0,00 | 0,00 | 0,00 | 0,00 | 0,00 |
| 257 | Mumeishi | | 183 | 0,00 | 0,00 | 4,50 | 4,50 | 2 | 2 | 0 | 0,00 | 0,00 | 0,00 | 0,00 | 0,00 | 0,00 | 0,00 | 0,00 | 2,50 | 0,00 | 0,00 | 2,00 | 0,00 | 0,00 | 0,00 | 0,00 | 0,00 | 0,00 | 0,00 |
| 258 | Stevebono | | 138 | 0,00 | 4,50 | 0,00 | 4,50 | 1 | 1 | 0 | 0,00 | 0,00 | 4,50 | 0,00 | 0,00 | 0,00 | 0,00 | 0,00 | 0,00 | 0,00 | 0,00 | 0,00 | 0,00 | 0,00 | 0,00 | 0,00 | 0,00 | 0,00 | 0,00 |
| 259 | wiedi | | NR | 0,00 | 0,00 | 4,50 | 4,50 | 2 | 1 | 0 | 0,00 | 0,00 | 0,00 | 4,50 | 0,00 | 0,00 | 0,00 | 0,00 | 0,00 | 0,00 | 0,00 | 0,00 | 0,00 | 0,00 | 0,00 | 0,00 | 0,00 | 0,00 | 0,00 |
| 260 | Gachinco | | 232 | 0,00 | 0,00 | 4,25 | 4,25 | 2 | 1 | 0 | 0,00 | 0,00 | 0,00 | 0,00 | 0,00 | 0,00 | 0,00 | 0,00 | 0,00 | 4,25 | 0,00 | 0,00 | 0,00 | 0,00 | 0,00 | 0,00 | 0,00 | 0,00 | 0,00 |
| 261 | Puchashuzon | | 308 | 0,00 | 4,07 | 0,00 | 4,07 | 2 | 1 | 0 | 0,00 | 0,00 | 0,00 | 0,00 | 0,00 | 0,00 | 4,07 | 0,00 | 0,00 | 0,00 | 0,00 | 0,00 | 0,00 | 0,00 | 0,00 | 0,00 | 0,00 | 0,00 | 0,00 |
| 262 | Rowitoro | | 369 | 0,00 | 4,07 | 0,00 | 4,07 | 2 | 1 | 0 | 0,00 | 0,00 | 0,00 | 0,00 | 0,00 | 0,00 | 4,07 | 0,00 | 0,00 | 0,00 | 0,00 | 0,00 | 0,00 | 0,00 | 0,00 | 0,00 | 0,00 | 0,00 | 0,00 |
| 263 | isokawa | | NR | 0,00 | 0,00 | 4,00 | 4,00 | 1 | 1 | 0 | 0,00 | 0,00 | 0,00 | 0,00 | 0,00 | 0,00 | 0,00 | 0,00 | 0,00 | 4,00 | 0,00 | 0,00 | 0,00 | 0,00 | 0,00 | 0,00 | 0,00 | 0,00 | 0,00 |
| 264 | Wasarabiyama | | NR | 0,00 | 0,00 | 4,00 | 4,00 | 1 | 1 | 0 | 0,00 | 0,00 | 0,00 | 0,00 | 0,00 | 0,00 | 0,00 | 0,00 | 4,00 | 0,00 | 0,00 | 0,00 | 0,00 | 0,00 | 0,00 | 0,00 | 0,00 | 0,00 | 0,00 |
| 265 | Arubaitoyama | | NR | 0,00 | 0,00 | 4,00 | 4,00 | 1 | 1 | 0 | 0,00 | 0,00 | 0,00 | 0,00 | 0,00 | 0,00 | 0,00 | 0,00 | 0,00 | 0,00 | 0,00 | 0,00 | 0,00 | 0,00 | 0,00 | 0,00 | 0,00 | 4,00 | 0,00 |
| 266 | bad_boy | | 202 | 0,00 | 0,00 | 4,00 | 4,00 | 1 | 1 | 0 | 0,00 | 0,00 | 0,00 | 0,00 | 0,00 | 0,00 | 0,00 | 0,00 | 4,00 | 0,00 | 0,00 | 0,00 | 0,00 | 0,00 | 0,00 | 0,00 | 0,00 | 0,00 | 0,00 |
| 267 | Gooner | | 357 | 0,00 | 0,00 | 4,00 | 4,00 | 1 | 1 | 0 | 0,00 | 0,00 | 0,00 | 0,00 | 4,00 | 0,00 | 0,00 | 0,00 | 0,00 | 0,00 | 0,00 | 0,00 | 0,00 | 0,00 | 0,00 | 0,00 | 0,00 | 0,00 | 0,00 |
| 268 | Hijiiyama | | 292 | 0,00 | 0,00 | 4,00 | 4,00 | 1 | 1 | 0 | 0,00 | 0,00 | 0,00 | 0,00 | 0,00 | 0,00 | 0,00 | 0,00 | 0,00 | 0,00 | 0,00 | 0,00 | 0,00 | 0,00 | 0,00 | 0,00 | 0,00 | 4,00 | 0,00 |
| 269 | Kaiouduma | | NR | 0,00 | 0,00 | 4,00 | 4,00 | 1 | 1 | 0 | 0,00 | 0,00 | 0,00 | 0,00 | 0,00 | 0,00 | 0,00 | 0,00 | 4,00 | 0,00 | 0,00 | 0,00 | 0,00 | 0,00 | 0,00 | 0,00 | 0,00 | 0,00 | 0,00 |
| 270 | Nishinoshima | | NR | 0,00 | 0,00 | 4,00 | 4,00 | 1 | 1 | 0 | 0,00 | 0,00 | 0,00 | 0,00 | 0,00 | 0,00 | 0,00 | 4,00 | 0,00 | 0,00 | 0,00 | 0,00 | 0,00 | 0,00 | 0,00 | 0,00 | 0,00 | 0,00 | 0,00 |
| 271 | Torai | | NR | 0,00 | 0,00 | 4,00 | 4,00 | 1 | 1 | 0 | 0,00 | 0,00 | 0,00 | 0,00 | 0,00 | 0,00 | 0,00 | 0,00 | 4,00 | 0,00 | 0,00 | 0,00 | 0,00 | 0,00 | 0,00 | 0,00 | 0,00 | 0,00 | 0,00 |
| 272 | Asafan | | 89 | 0,00 | 3,66 | 0,00 | 3,66 | 2 | 2 | 0 | 0,00 | 0,00 | 0,00 | 0,00 | 0,00 | 0,00 | 0,00 | 0,00 | 0,00 | 0,00 | 0,00 | 0,00 | 0,00 | 0,00 | 0,00 | 2,23 | 1,43 | 0,00 | 0,00 |
| 273 | Vikanohara | | 44 | 1,00 | 2,58 | 1,00 | 3,58 | 5 | 3 | 0 | 0,00 | 1,24 | 0,00 | 0,00 | 0,00 | 0,00 | 1,34 | 0,00 | 0,00 | 0,00 | 0,00 | 0,00 | 0,00 | 0,00 | 0,00 | 0,00 | 0,00 | 1,00 | 0,00 |
| 274 | Mustbethemawashi | | NR | 0,00 | 0,00 | 3,50 | 3,50 | 1 | 1 | 0 | 0,00 | 0,00 | 0,00 | 3,50 | 0,00 | 0,00 | 0,00 | 0,00 | 0,00 | 0,00 | 0,00 | 0,00 | 0,00 | 0,00 | 0,00 | 0,00 | 0,00 | 0,00 | 0,00 |
| 275 | sumosweetheart | | NR | 0,00 | 0,00 | 3,50 | 3,50 | 1 | 1 | 0 | 0,00 | 0,00 | 0,00 | 3,50 | 0,00 | 0,00 | 0,00 | 0,00 | 0,00 | 0,00 | 0,00 | 0,00 | 0,00 | 0,00 | 0,00 | 0,00 | 0,00 | 0,00 | 0,00 |
| 276 | Akamagawa | | NR | 0,00 | 0,00 | 3,50 | 3,50 | 1 | 1 | 0 | 0,00 | 0,00 | 0,00 | 0,00 | 0,00 | 0,00 | 0,00 | 0,00 | 3,50 | 0,00 | 0,00 | 0,00 | 0,00 | 0,00 | 0,00 | 0,00 | 0,00 | 0,00 | 0,00 |
| 277 | anilyuudh | | NR | 0,00 | 0,00 | 3,50 | 3,50 | 1 | 1 | 0 | 0,00 | 0,00 | 0,00 | 3,50 | 0,00 | 0,00 | 0,00 | 0,00 | 0,00 | 0,00 | 0,00 | 0,00 | 0,00 | 0,00 | 0,00 | 0,00 | 0,00 | 0,00 | 0,00 |
| 278 | Chijanofuji | | 140 | 0,00 | 3,50 | 0,00 | 3,50 | 1 | 1 | 0 | 3,50 | 0,00 | 0,00 | 0,00 | 0,00 | 0,00 | 0,00 | 0,00 | 0,00 | 0,00 | 0,00 | 0,00 | 0,00 | 0,00 | 0,00 | 0,00 | 0,00 | 0,00 | 0,00 |
| 279 | Inakayama | | NR | 0,00 | 3,48 | 0,00 | 3,48 | 2 | 1 | 0 | 0,00 | 0,00 | 0,00 | 0,00 | 0,00 | 0,00 | 0,00 | 0,00 | 0,00 | 0,00 | 0,00 | 0,00 | 0,00 | 0,00 | 0,00 | 3,48 | 0,00 | 0,00 | 0,00 |
| 280 | Itachi | | 39 | 0,00 | 3,02 | 0,00 | 3,02 | 3 | 2 | 0 | 2,47 | 0,00 | 0,00 | 0,00 | 0,00 | 0,00 | 0,00 | 0,00 | 0,00 | 0,00 | 0,00 | 0,00 | 0,00 | 0,00 | 0,00 | 0,00 | 0,55 | 0,00 | 0,00 |
| 281 | Kikkuzakankurou | | 195 | 0,00 | 0,00 | 3,00 | 3,00 | 1 | 1 | 0 | 0,00 | 0,00 | 0,00 | 0,00 | 0,00 | 0,00 | 0,00 | 0,00 | 3,00 | 0,00 | 0,00 | 0,00 | 0,00 | 0,00 | 0,00 | 0,00 | 0,00 | 0,00 | 0,00 |
| 282 | Takanosushi | | NR | 0,00 | 0,00 | 3,00 | 3,00 | 1 | 1 | 0 | 0,00 | 0,00 | 0,00 | 0,00 | 0,00 | 0,00 | 0,00 | 0,00 | 0,00 | 0,00 | 0,00 | 0,00 | 0,00 | 0,00 | 3,00 | 0,00 | 0,00 | 0,00 | 0,00 |
| 283 | A-sann | | NR | 0,00 | 0,00 | 3,00 | 3,00 | 1 | 1 | 0 | 0,00 | 0,00 | 0,00 | 0,00 | 0,00 | 0,00 | 0,00 | 0,00 | 0,00 | 0,00 | 3,00 | 0,00 | 0,00 | 0,00 | 0,00 | 0,00 | 0,00 | 0,00 | 0,00 |
| 284 | Big-jordan | | 194 | 0,00 | 0,00 | 3,00 | 3,00 | 1 | 1 | 0 | 0,00 | 0,00 | 0,00 | 0,00 | 0,00 | 0,00 | 0,00 | 0,00 | 0,00 | 0,00 | 0,00 | 3,00 | 0,00 | 0,00 | 0,00 | 0,00 | 0,00 | 0,00 | 0,00 |
| 285 | express | | NR | 0,00 | 0,00 | 3,00 | 3,00 | 1 | 1 | 0 | 0,00 | 0,00 | 0,00 | 0,00 | 0,00 | 0,00 | 0,00 | 0,00 | 0,00 | 0,00 | 0,00 | 3,00 | 0,00 | 0,00 | 0,00 | 0,00 | 0,00 | 0,00 | 0,00 |
| 286 | Hakuba | | 161 | 0,00 | 0,00 | 3,00 | 3,00 | 1 | 1 | 0 | 0,00 | 0,00 | 0,00 | 0,00 | 0,00 | 0,00 | 0,00 | 0,00 | 3,00 | 0,00 | 0,00 | 0,00 | 0,00 | 0,00 | 0,00 | 0,00 | 0,00 | 0,00 | 0,00 |
| 287 | Ikanofuji | | 102 | 0,00 | 0,00 | 3,00 | 3,00 | 1 | 1 | 0 | 0,00 | 0,00 | 0,00 | 0,00 | 0,00 | 0,00 | 0,00 | 0,00 | 0,00 | 0,00 | 0,00 | 3,00 | 0,00 | 0,00 | 0,00 | 0,00 | 0,00 | 0,00 | 0,00 |
| 288 | Iwakimisakari | | NR | 0,00 | 0,00 | 3,00 | 3,00 | 1 | 1 | 0 | 0,00 | 0,00 | 0,00 | 0,00 | 0,00 | 3,00 | 0,00 | 0,00 | 0,00 | 0,00 | 0,00 | 0,00 | 0,00 | 0,00 | 0,00 | 0,00 | 0,00 | 0,00 | 0,00 |
| 289 | Kinginyama | | NR | 0,00 | 0,00 | 3,00 | 3,00 | 1 | 1 | 0 | 0,00 | 0,00 | 0,00 | 0,00 | 0,00 | 0,00 | 0,00 | 0,00 | 3,00 | 0,00 | 0,00 | 0,00 | 0,00 | 0,00 | 0,00 | 0,00 | 0,00 | 0,00 | 0,00 |
| 290 | Sugawara Isaocchi | | 286 | 0,00 | 0,00 | 3,00 | 3,00 | 1 | 1 | 0 | 0,00 | 0,00 | 0,00 | 0,00 | 0,00 | 0,00 | 0,00 | 0,00 | 0,00 | 0,00 | 3,00 | 0,00 | 0,00 | 0,00 | 0,00 | 0,00 | 0,00 | 0,00 | 0,00 |
| 291 | Azumaryu | | 173 | 0,00 | 2,64 | 0,00 | 2,64 | 1 | 1 | 0 | 0,00 | 2,64 | 0,00 | 0,00 | 0,00 | 0,00 | 0,00 | 0,00 | 0,00 | 0,00 | 0,00 | 0,00 | 0,00 | 0,00 | 0,00 | 0,00 | 0,00 | 0,00 | 0,00 |
| 292 | Mabunkiyo | | 146 | 0,55 | 0,55 | 2,00 | 2,55 | 2 | 2 | 0 | 0,00 | 0,00 | 0,00 | 0,00 | 0,00 | 0,00 | 0,00 | 0,00 | 0,00 | 2,00 | 0,00 | 0,00 | 0,00 | 0,00 | 0,00 | 0,00 | 0,55 | 0,00 | 0,00 |
| 293 | Fulli | | NR | 0,00 | 0,00 | 2,50 | 2,50 | 1 | 1 | 0 | 0,00 | 0,00 | 0,00 | 0,00 | 0,00 | 0,00 | 0,00 | 0,00 | 2,50 | 0,00 | 0,00 | 0,00 | 0,00 | 0,00 | 0,00 | 0,00 | 0,00 | 0,00 | 0,00 |
| 294 | Giriyama | | NR | 0,00 | 0,00 | 2,50 | 2,50 | 1 | 1 | 0 | 0,00 | 0,00 | 0,00 | 2,50 | 0,00 | 0,00 | 0,00 | 0,00 | 0,00 | 0,00 | 0,00 | 0,00 | 0,00 | 0,00 | 0,00 | 0,00 | 0,00 | 0,00 | 0,00 |
| 295 | Mike | | NR | 0,00 | 0,00 | 2,50 | 2,50 | 1 | 1 | 0 | 0,00 | 0,00 | 0,00 | 2,50 | 0,00 | 0,00 | 0,00 | 0,00 | 0,00 | 0,00 | 0,00 | 0,00 | 0,00 | 0,00 | 0,00 | 0,00 | 0,00 | 0,00 | 0,00 |
| 296 | Neon | | NR | 0,00 | 0,00 | 2,50 | 2,50 | 1 | 1 | 0 | 0,00 | 0,00 | 0,00 | 0,00 | 0,00 | 0,00 | 0,00 | 0,00 | 2,50 | 0,00 | 0,00 | 0,00 | 0,00 | 0,00 | 0,00 | 0,00 | 0,00 | 0,00 | 0,00 |
| 297 | Saemonnosuke | | NR | 0,00 | 0,00 | 2,50 | 2,50 | 1 | 1 | 0 | 0,00 | 0,00 | 0,00 | 0,00 | 0,00 | 0,00 | 0,00 | 0,00 | 2,50 | 0,00 | 0,00 | 0,00 | 0,00 | 0,00 | 0,00 | 0,00 | 0,00 | 0,00 | 0,00 |
| 298 | Wolfgangho | | 322 | 0,00 | 0,00 | 2,50 | 2,50 | 1 | 1 | 0 | 0,00 | 0,00 | 0,00 | 0,00 | 0,00 | 0,00 | 0,00 | 0,00 | 0,00 | 0,00 | 0,00 | 0,00 | 2,50 | 0,00 | 0,00 | 0,00 | 0,00 | 0,00 | 0,00 |
| 299 | Yorugu | | NR | 0,00 | 0,00 | 2,50 | 2,50 | 1 | 1 | 0 | 0,00 | 0,00 | 0,00 | 2,50 | 0,00 | 0,00 | 0,00 | 0,00 | 0,00 | 0,00 | 0,00 | 0,00 | 0,00 | 0,00 | 0,00 | 0,00 | 0,00 | 0,00 | 0,00 |
| 300 | Packamawashi | | 320 | 0,00 | 2,44 | 0,00 | 2,44 | 2 | 2 | 0 | 0,00 | 1,24 | 1,20 | 0,00 | 0,00 | 0,00 | 0,00 | 0,00 | 0,00 | 0,00 | 0,00 | 0,00 | 0,00 | 0,00 | 0,00 | 0,00 | 0,00 | 0,00 | 0,00 |
| 301 | Ogawa | | 150 | 0,00 | 0,00 | 2,33 | 2,33 | 2 | 1 | 0 | 0,00 | 0,00 | 0,00 | 0,00 | 0,00 | 0,00 | 0,00 | 0,00 | 2,33 | 0,00 | 0,00 | 0,00 | 0,00 | 0,00 | 0,00 | 0,00 | 0,00 | 0,00 | 0,00 |
| 302 | Asashimaru | | 186 | 0,00 | 2,23 | 0,00 | 2,23 | 1 | 1 | 0 | 0,00 | 0,00 | 0,00 | 0,00 | 0,00 | 0,00 | 0,00 | 0,00 | 0,00 | 0,00 | 0,00 | 0,00 | 0,00 | 0,00 | 0,00 | 2,23 | 0,00 | 0,00 | 0,00 |
| 303 | Terosan | | 188 | 0,00 | 2,14 | 0,00 | 2,14 | 1 | 1 | 0 | 2,14 | 0,00 | 0,00 | 0,00 | 0,00 | 0,00 | 0,00 | 0,00 | 0,00 | 0,00 | 0,00 | 0,00 | 0,00 | 0,00 | 0,00 | 0,00 | 0,00 | 0,00 | 0,00 |
| 304 | Toratorii | | NR | 0,00 | 0,00 | 2,14 | 2,14 | 1 | 1 | 0 | 0,00 | 0,00 | 0,00 | 0,00 | 0,00 | 0,00 | 0,00 | 0,00 | 0,00 | 2,14 | 0,00 | 0,00 | 0,00 | 0,00 | 0,00 | 0,00 | 0,00 | 0,00 | 0,00 |
| 305 | Kirinoumi | | NR | 0,00 | 0,00 | 2,00 | 2,00 | 1 | 1 | 0 | 0,00 | 0,00 | 0,00 | 0,00 | 0,00 | 2,00 | 0,00 | 0,00 | 0,00 | 0,00 | 0,00 | 0,00 | 0,00 | 0,00 | 0,00 | 0,00 | 0,00 | 0,00 | 0,00 |
| 306 | Shirofunekun | | NR | 0,00 | 0,00 | 2,00 | 2,00 | 1 | 1 | 0 | 0,00 | 0,00 | 0,00 | 0,00 | 0,00 | 0,00 | 0,00 | 0,00 | 2,00 | 0,00 | 0,00 | 0,00 | 0,00 | 0,00 | 0,00 | 0,00 | 0,00 | 0,00 | 0,00 |
| 307 | Enoshima | | NR | 0,00 | 0,00 | 2,00 | 2,00 | 1 | 1 | 0 | 0,00 | 0,00 | 0,00 | 2,00 | 0,00 | 0,00 | 0,00 | 0,00 | 0,00 | 0,00 | 0,00 | 0,00 | 0,00 | 0,00 | 0,00 | 0,00 | 0,00 | 0,00 | 0,00 |
| 308 | Jagenauhageshaft | | NR | 0,00 | 0,00 | 2,00 | 2,00 | 1 | 1 | 0 | 0,00 | 0,00 | 0,00 | 2,00 | 0,00 | 0,00 | 0,00 | 0,00 | 0,00 | 0,00 | 0,00 | 0,00 | 0,00 | 0,00 | 0,00 | 0,00 | 0,00 | 0,00 | 0,00 |
| 309 | Jitakabatake | | NR | 0,00 | 0,00 | 2,00 | 2,00 | 1 | 1 | 0 | 0,00 | 0,00 | 0,00 | 2,00 | 0,00 | 0,00 | 0,00 | 0,00 | 0,00 | 0,00 | 0,00 | 0,00 | 0,00 | 0,00 | 0,00 | 0,00 | 0,00 | 0,00 | 0,00 |
| 310 | Koukai | | NR | 0,00 | 2,00 | 0,00 | 2,00 | 1 | 1 | 0 | 0,00 | 0,00 | 0,00 | 0,00 | 0,00 | 0,00 | 0,00 | 0,00 | 0,00 | 0,00 | 0,00 | 0,00 | 0,00 | 2,00 | 0,00 | 0,00 | 0,00 | 0,00 | 0,00 |
| 311 | Monkey | | NR | 0,00 | 0,00 | 2,00 | 2,00 | 1 | 1 | 0 | 0,00 | 0,00 | 0,00 | 2,00 | 0,00 | 0,00 | 0,00 | 0,00 | 0,00 | 0,00 | 0,00 | 0,00 | 0,00 | 0,00 | 0,00 | 0,00 | 0,00 | 0,00 | 0,00 |
| 312 | Rhino Gate | | NR | 0,00 | 0,00 | 2,00 | 2,00 | 1 | 1 | 0 | 0,00 | 0,00 | 0,00 | 2,00 | 0,00 | 0,00 | 0,00 | 0,00 | 0,00 | 0,00 | 0,00 | 0,00 | 0,00 | 0,00 | 0,00 | 0,00 | 0,00 | 0,00 | 0,00 |
| 313 | Shirousa | | NR | 0,00 | 0,00 | 2,00 | 2,00 | 1 | 1 | 0 | 0,00 | 0,00 | 0,00 | 2,00 | 0,00 | 0,00 | 0,00 | 0,00 | 0,00 | 0,00 | 0,00 | 0,00 | 0,00 | 0,00 | 0,00 | 0,00 | 0,00 | 0,00 | 0,00 |
| 314 | Snooping | | 264 | 0,00 | 0,00 | 2,00 | 2,00 | 1 | 1 | 0 | 0,00 | 0,00 | 0,00 | 0,00 | 0,00 | 0,00 | 0,00 | 0,00 | 2,00 | 0,00 | 0,00 | 0,00 | 0,00 | 0,00 | 0,00 | 0,00 | 0,00 | 0,00 | 0,00 |
| 315 | Chisaiyama | | NR | 0,00 | 1,82 | 0,00 | 1,82 | 3 | 2 | 0 | 0,00 | 0,50 | 0,00 | 0,00 | 0,00 | 0,00 | 1,32 | 0,00 | 0,00 | 0,00 | 0,00 | 0,00 | 0,00 | 0,00 | 0,00 | 0,00 | 0,00 | 0,00 | 0,00 |
| 316 | Nishikinada | | 246 | 0,00 | 0,00 | 1,50 | 1,50 | 1 | 1 | 0 | 0,00 | 0,00 | 0,00 | 0,00 | 0,00 | 0,00 | 0,00 | 0,00 | 0,00 | 0,00 | 0,00 | 0,00 | 0,00 | 0,00 | 0,00 | 0,00 | 0,00 | 1,50 | 0,00 |
| 317 | Kotoseiya | | 268 | 0,00 | 0,00 | 1,50 | 1,50 | 1 | 1 | 0 | 0,00 | 0,00 | 0,00 | 0,00 | 1,50 | 0,00 | 0,00 | 0,00 | 0,00 | 0,00 | 0,00 | 0,00 | 0,00 | 0,00 | 0,00 | 0,00 | 0,00 | 0,00 | 0,00 |
| 318 | Ookami | | NR | 0,00 | 0,00 | 1,50 | 1,50 | 1 | 1 | 0 | 0,00 | 0,00 | 0,00 | 1,50 | 0,00 | 0,00 | 0,00 | 0,00 | 0,00 | 0,00 | 0,00 | 0,00 | 0,00 | 0,00 | 0,00 | 0,00 | 0,00 | 0,00 | 0,00 |
| 319 | Pudge | | 352 | 0,00 | 0,00 | 1,50 | 1,50 | 1 | 1 | 0 | 0,00 | 0,00 | 0,00 | 1,50 | 0,00 | 0,00 | 0,00 | 0,00 | 0,00 | 0,00 | 0,00 | 0,00 | 0,00 | 0,00 | 0,00 | 0,00 | 0,00 | 0,00 | 0,00 |
| 320 | Sentorea | | 359 | 0,00 | 0,00 | 1,50 | 1,50 | 1 | 1 | 0 | 0,00 | 0,00 | 0,00 | 0,00 | 0,00 | 0,00 | 0,00 | 0,00 | 0,00 | 0,00 | 1,50 | 0,00 | 0,00 | 0,00 | 0,00 | 0,00 | 0,00 | 0,00 | 0,00 |
| 321 | Tomoe | | 92 | 0,00 | 0,00 | 1,50 | 1,50 | 1 | 1 | 0 | 0,00 | 0,00 | 0,00 | 0,00 | 0,00 | 1,50 | 0,00 | 0,00 | 0,00 | 0,00 | 0,00 | 0,00 | 0,00 | 0,00 | 0,00 | 0,00 | 0,00 | 0,00 | 0,00 |
| 322 | Yonechan | | 139 | 0,00 | 0,00 | 1,50 | 1,50 | 1 | 1 | 0 | 0,00 | 0,00 | 0,00 | 0,00 | 0,00 | 0,00 | 0,00 | 0,00 | 0,00 | 0,00 | 1,50 | 0,00 | 0,00 | 0,00 | 0,00 | 0,00 | 0,00 | 0,00 | 0,00 |
| 323 | Usukh | | 331 | 0,00 | 1,43 | 0,00 | 1,43 | 1 | 1 | 0 | 0,00 | 0,00 | 0,00 | 0,00 | 0,00 | 0,00 | 0,00 | 0,00 | 0,00 | 0,00 | 0,00 | 0,00 | 0,00 | 0,00 | 0,00 | 0,00 | 1,43 | 0,00 | 0,00 |
| 324 | Hokuranzan | | 152 | 0,00 | 1,25 | 0,00 | 1,25 | 2 | 1 | 0 | 0,00 | 0,00 | 0,00 | 0,00 | 0,00 | 0,00 | 1,25 | 0,00 | 0,00 | 0,00 | 0,00 | 0,00 | 0,00 | 0,00 | 0,00 | 0,00 | 0,00 | 0,00 | 0,00 |
| 325 | Yuko | | 96 | 0,00 | 1,25 | 0,00 | 1,25 | 1 | 1 | 0 | 0,00 | 0,00 | 0,00 | 0,00 | 0,00 | 0,00 | 0,00 | 0,00 | 0,00 | 0,00 | 0,00 | 0,00 | 0,00 | 0,00 | 0,00 | 1,25 | 0,00 | 0,00 | 0,00 |
| 326 | Kana-san | | NR | 0,00 | 1,24 | 0,00 | 1,24 | 1 | 1 | 0 | 0,00 | 1,24 | 0,00 | 0,00 | 0,00 | 0,00 | 0,00 | 0,00 | 0,00 | 0,00 | 0,00 | 0,00 | 0,00 | 0,00 | 0,00 | 0,00 | 0,00 | 0,00 | 0,00 |
| 327 | Shimpu | | 346 | 0,00 | 1,24 | 0,00 | 1,24 | 1 | 1 | 0 | 0,00 | 1,24 | 0,00 | 0,00 | 0,00 | 0,00 | 0,00 | 0,00 | 0,00 | 0,00 | 0,00 | 0,00 | 0,00 | 0,00 | 0,00 | 0,00 | 0,00 | 0,00 | 0,00 |
| 328 | Oroganosato | | NR | 0,00 | 1,20 | 0,00 | 1,20 | 1 | 1 | 0 | 0,00 | 0,00 | 1,20 | 0,00 | 0,00 | 0,00 | 0,00 | 0,00 | 0,00 | 0,00 | 0,00 | 0,00 | 0,00 | 0,00 | 0,00 | 0,00 | 0,00 | 0,00 | 0,00 |
| 329 | Schnappamawashi | | NR | 0,00 | 1,20 | 0,00 | 1,20 | 1 | 1 | 0 | 0,00 | 0,00 | 1,20 | 0,00 | 0,00 | 0,00 | 0,00 | 0,00 | 0,00 | 0,00 | 0,00 | 0,00 | 0,00 | 0,00 | 0,00 | 0,00 | 0,00 | 0,00 | 0,00 |
| 330 | Aome | | NR | 0,00 | 1,07 | 0,00 | 1,07 | 1 | 1 | 0 | 0,00 | 0,00 | 0,00 | 0,00 | 0,00 | 0,00 | 0,00 | 0,00 | 0,00 | 0,00 | 0,00 | 0,00 | 0,00 | 1,07 | 0,00 | 0,00 | 0,00 | 0,00 | 0,00 |
| 331 | Harry | | NR | 0,00 | 1,07 | 0,00 | 1,07 | 1 | 1 | 0 | 0,00 | 0,00 | 0,00 | 0,00 | 0,00 | 0,00 | 1,07 | 0,00 | 0,00 | 0,00 | 0,00 | 0,00 | 0,00 | 0,00 | 0,00 | 0,00 | 0,00 | 0,00 | 0,00 |
| 332 | Ouchiyama | | NR | 0,00 | 1,07 | 0,00 | 1,07 | 1 | 1 | 0 | 0,00 | 0,00 | 0,00 | 0,00 | 0,00 | 0,00 | 1,07 | 0,00 | 0,00 | 0,00 | 0,00 | 0,00 | 0,00 | 0,00 | 0,00 | 0,00 | 0,00 | 0,00 | 0,00 |
| 333 | Imadon | | NR | 0,00 | 0,00 | 1,00 | 1,00 | 1 | 1 | 0 | 0,00 | 0,00 | 0,00 | 0,00 | 0,00 | 0,00 | 0,00 | 0,00 | 1,00 | 0,00 | 0,00 | 0,00 | 0,00 | 0,00 | 0,00 | 0,00 | 0,00 | 0,00 | 0,00 |
| 334 | Enjin | | 229 | 0,00 | 1,00 | 0,00 | 1,00 | 1 | 1 | 0 | 0,00 | 0,00 | 0,00 | 0,00 | 0,00 | 0,00 | 1,00 | 0,00 | 0,00 | 0,00 | 0,00 | 0,00 | 0,00 | 0,00 | 0,00 | 0,00 | 0,00 | 0,00 | 0,00 |
| 335 | Iwateyama | | NR | 0,00 | 0,00 | 1,00 | 1,00 | 1 | 1 | 0 | 0,00 | 0,00 | 0,00 | 0,00 | 0,00 | 0,00 | 0,00 | 0,00 | 1,00 | 0,00 | 0,00 | 0,00 | 0,00 | 0,00 | 0,00 | 0,00 | 0,00 | 0,00 | 0,00 |
| 336 | Kerotama-keroko | | NR | 0,00 | 0,00 | 1,00 | 1,00 | 1 | 1 | 0 | 0,00 | 0,00 | 0,00 | 0,00 | 0,00 | 0,00 | 0,00 | 0,00 | 1,00 | 0,00 | 0,00 | 0,00 | 0,00 | 0,00 | 0,00 | 0,00 | 0,00 | 0,00 | 0,00 |
| 337 | Ron | | NR | 0,00 | 0,00 | 1,00 | 1,00 | 1 | 1 | 0 | 0,00 | 0,00 | 0,00 | 0,00 | 0,00 | 0,00 | 0,00 | 0,00 | 0,00 | 0,00 | 1,00 | 0,00 | 0,00 | 0,00 | 0,00 | 0,00 | 0,00 | 0,00 | 0,00 |
| 338 | Sakamoto_maaya | | NR | 0,00 | 0,00 | 1,00 | 1,00 | 1 | 1 | 0 | 0,00 | 0,00 | 0,00 | 0,00 | 0,00 | 0,00 | 0,00 | 0,00 | 1,00 | 0,00 | 0,00 | 0,00 | 0,00 | 0,00 | 0,00 | 0,00 | 0,00 | 0,00 | 0,00 |
| 339 | Wamahada | | NR | 0,00 | 1,00 | 0,00 | 1,00 | 1 | 1 | 0 | 0,00 | 0,00 | 1,00 | 0,00 | 0,00 | 0,00 | 0,00 | 0,00 | 0,00 | 0,00 | 0,00 | 0,00 | 0,00 | 0,00 | 0,00 | 0,00 | 0,00 | 0,00 | 0,00 |
| 340 | Yummymummyyama | | NR | 0,00 | 0,00 | 1,00 | 1,00 | 1 | 1 | 0 | 0,00 | 0,00 | 0,00 | 0,00 | 0,00 | 1,00 | 0,00 | 0,00 | 0,00 | 0,00 | 0,00 | 0,00 | 0,00 | 0,00 | 0,00 | 0,00 | 0,00 | 0,00 | 0,00 |
| 341 | Hawk13 | | 332 | 0,00 | 0,00 | 0,75 | 0,75 | 1 | 1 | 0 | 0,00 | 0,00 | 0,00 | 0,00 | 0,00 | 0,00 | 0,00 | 0,75 | 0,00 | 0,00 | 0,00 | 0,00 | 0,00 | 0,00 | 0,00 | 0,00 | 0,00 | 0,00 | 0,00 |
| 342 | Takaroyama | | NR | 0,00 | 0,60 | 0,00 | 0,60 | 1 | 1 | 0 | 0,00 | 0,00 | 0,00 | 0,00 | 0,00 | 0,00 | 0,00 | 0,00 | 0,00 | 0,00 | 0,00 | 0,00 | 0,00 | 0,60 | 0,00 | 0,00 | 0,00 | 0,00 | 0,00 |
| 343 | Hamagewonna | | NR | 0,00 | 0,55 | 0,00 | 0,55 | 1 | 1 | 0 | 0,00 | 0,00 | 0,00 | 0,00 | 0,00 | 0,00 | 0,55 | 0,00 | 0,00 | 0,00 | 0,00 | 0,00 | 0,00 | 0,00 | 0,00 | 0,00 | 0,00 | 0,00 | 0,00 |
| 344 | Naganoyama | | 305 | 0,00 | 0,55 | 0,00 | 0,55 | 1 | 1 | 0 | 0,00 | 0,00 | 0,00 | 0,00 | 0,00 | 0,00 | 0,00 | 0,00 | 0,00 | 0,00 | 0,00 | 0,00 | 0,00 | 0,00 | 0,00 | 0,00 | 0,55 | 0,00 | 0,00 |
| 345 | Shabodo | | NR | 0,00 | 0,55 | 0,00 | 0,55 | 1 | 1 | 0 | 0,00 | 0,00 | 0,00 | 0,00 | 0,00 | 0,00 | 0,55 | 0,00 | 0,00 | 0,00 | 0,00 | 0,00 | 0,00 | 0,00 | 0,00 | 0,00 | 0,00 | 0,00 | 0,00 |
| 346 | Kachikachiyama | | 106 | 0,00 | 0,00 | 0,50 | 0,50 | 1 | 1 | 0 | 0,00 | 0,00 | 0,00 | 0,00 | 0,50 | 0,00 | 0,00 | 0,00 | 0,00 | 0,00 | 0,00 | 0,00 | 0,00 | 0,00 | 0,00 | 0,00 | 0,00 | 0,00 | 0,00 |
| 347 | Tekariko | | 185 | 0,00 | 0,50 | 0,00 | 0,50 | 1 | 1 | 0 | 0,00 | 0,00 | 0,50 | 0,00 | 0,00 | 0,00 | 0,00 | 0,00 | 0,00 | 0,00 | 0,00 | 0,00 | 0,00 | 0,00 | 0,00 | 0,00 | 0,00 | 0,00 | 0,00 |
| 348 | Chukibono | | NR | 0,00 | 0,00 | 0,33 | 0,33 | 1 | 1 | 0 | 0,00 | 0,00 | 0,00 | 0,33 | 0,00 | 0,00 | 0,00 | 0,00 | 0,00 | 0,00 | 0,00 | 0,00 | 0,00 | 0,00 | 0,00 | 0,00 | 0,00 | 0,00 | 0,00 |
| 349 | Jashedashe | | NR | 0,00 | 0,00 | 0,33 | 0,33 | 1 | 1 | 0 | 0,00 | 0,00 | 0,00 | 0,33 | 0,00 | 0,00 | 0,00 | 0,00 | 0,00 | 0,00 | 0,00 | 0,00 | 0,00 | 0,00 | 0,00 | 0,00 | 0,00 | 0,00 | 0,00 |
| 350 | Fat Slapper | | NR | 0,00 | 0,00 | 0,20 | 0,20 | 1 | 1 | 0 | 0,00 | 0,00 | 0,00 | 0,20 | 0,00 | 0,00 | 0,00 | 0,00 | 0,00 | 0,00 | 0,00 | 0,00 | 0,00 | 0,00 | 0,00 | 0,00 | 0,00 | 0,00 | 0,00 |
| 351 | swinx | | 287 | 0,00 | 0,00 | 0,20 | 0,20 | 1 | 1 | 0 | 0,00 | 0,00 | 0,00 | 0,20 | 0,00 | 0,00 | 0,00 | 0,00 | 0,00 | 0,00 | 0,00 | 0,00 | 0,00 | 0,00 | 0,00 | 0,00 | 0,00 | 0,00 | 0,00 |
| 352 | Furanohana | | 189 | 0,00 | 0,09 | 0,00 | 0,09 | 1 | 1 | 0 | 0,00 | 0,00 | 0,00 | 0,00 | 0,00 | 0,00 | 0,09 | 0,00 | 0,00 | 0,00 | 0,00 | 0,00 | 0,00 | 0,00 | 0,00 | 0,00 | 0,00 | 0,00 | 0,00 |
| 353 | Haruko | | NR | 0,00 | 0,09 | 0,00 | 0,09 | 1 | 1 | 0 | 0,00 | 0,00 | 0,00 | 0,00 | 0,00 | 0,00 | 0,09 | 0,00 | 0,00 | 0,00 | 0,00 | 0,00 | 0,00 | 0,00 | 0,00 | 0,00 | 0,00 | 0,00 | 0,00 |
---
2008 Nations' World Championship Medal Table:

TOTAL
COUNT
TOTAL
BS
CG
DTS
FS
GTB
TH
ISP
JG
POG
S-O
NC
ODD
GISP
S-Q
RS
SG
S-T
UDH
SCS
G
S
B
G
S
B
G
S
B
G
S
B
G
S
B
G
S
B
G
S
B
G
S
B
G
S
B
G
S
B
G
S
B
G
S
B
G
S
B
G
S
B
G
S
B
G
S
B
G
S
B
G
S
B
G
S
B


Japan
95
33
36
26
1
1
1
3
1
1
2
3
1
2
1
1
2
1
5
6
4
1
1
1
4
4
3
4
4
3
4
2
2
5
1
1
2
2
2
4
4
1
1
1
1
1


Germany
93
26
42
25
1
3
6
2
4
1
3
5
3
1
3
3
2
1
4
3
1
2
4
1
1
1
1
2
6
1
2
2
3
6
3
1
1
3
4
2
1


United States
54
12
23
19
2
3
3
1
2
5
1
1
3
1
3
3
1
1
1
1
1
1
1
1
2
1
2
1
1
2
1
4
2
1
1


France
26
5
10
11
1
2
1
1
1
2
1
1
1
1
1
1
1
1
1
1
1
2
1
1
1
1
1


Austria
24
5
11
8
1
1
1
1
1
1
2
1
1
1
1
1
1
1
1
2
1
1
2
1
1


United Kingdom
16
7
7
2
1
1
1
1
1
2
1
2
2
2
2


Unknown Nationality
12
5
4
3
1
1
2
1
2
1
1
1
1
1


Switzerland
12
4
6
2
2
1
1
1
1
2
1
1
2


Poland
11
3
6
2
1
1
1
1
2
2
1
1
1


New Zealand
11
1
8
2
1
1
1
6
1
1


Australia
10
2
3
5
1
1
1
1
1
1
2
1
1


Canada
7
4
3
2
1
1
1
1
1


Israel
6
1
2
3
1
1
1
1
1
1


Hungary
5
5
1
2
1
1


Bulgaria
5
4
1
2
1
1
1


Slovakia
4
1
3
1
1
2


Romania
4
1
3
1
2
1


Russia
4
1
2
1
1
1
2


Finland
4
1
1
2
1
1
1
1


Sweden
4
1
3
1
1
1
1


Spain
3
1
2
1
1
1


United Arab Emirates
3
3
1
1
1


Denmark
3
3
1
1
1


Mongolia
2
2
1
1


Taiwan
2
2
1
1


India
1
1
1


Liechtenstein
1
1
1


Malta
1
1
1


European Union
1
1
1


Greece
1
1
1


Azerbaijan
1
1
1


Ireland
1
1
1


Fiji
1
1
1


Honduras
1
1
1


Estonia
1
1
1